After Sisodia's AAP CM candidate hint, Kejriwal to kick-start 5 day Punjab tour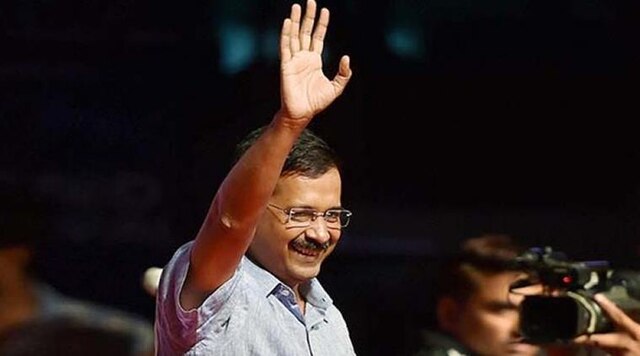 Mohali: After Senior Aam Aadmi Party leader Manish Sisodia on Tuesaday urged the Punjab electorate to vote "in the name of Arvind Kejriwal", Kejriwal is set to kick-start his 5 day tour in Punjab starting Wednesday. This was the closest the Aam Aadmi Party has come to projecting Delhi CM as Punjab chief ministerial candidate.
" Yeh samajh ke vote do ki aap Arvind Kejriwal ko vote de rahe ho.... Aap ka vote Kejriwal ke naam pe hai (vote assuming that you are voting for Arvind Kejriwal. Your vote is in Kejriwal's name)," Delhi deputy chief minister Sisodia told a campaign rally in Mohali's Balongi village, adjacent to state capital Chandigarh.
Sisodia's comments took AAP leaders in Delhi and Chandigarh by surprise as the party has so far not named any chief ministerial nominee for the elections in Punjab, which votes on February 4, unlike in Goa. The AAP's reluctance to project a chief ministerial face had fuelled speculation that Delhi chief minister Kejriwal was eying Punjab ostensibly because of his limited administrative powers in the capital.
According to AAP sources, Sisodia's comment is significant as he is believed to be close to Kejriwal and is unlikely to make such important public statements without consulting the chief minister.
"It is very unlikely that he (Sisodia) would have made such a comment without a nod from the top," a senior AAP leader said.
Phone calls to prominent AAP leaders in Punjab, Sanjay Singh, Durgesh Pathak and Jarnail Singh, did not elicit a response.
In the run-up to the Punjab polls, which will witness a three-way fight for the first time with the AAP entering the fray, Kejriwal and other leaders of the party had steered clear of declaring a chief ministerial candidate. This is seen as one of the reasons behind former BJP parliamentarian Navjot Singh Sidhu not joining the party.
Immediately after the Election Commission announced the schedule on January 4, Kejriwal had said the AAP would go to polls in Punjab without projecting a chief ministerial face and that the elected legislators would take a call on who would helm the state if the party won.
On Sunday, comedian-MP Bhagwant Mann, the AAP candidate from Jalalabad against Punjab deputy chief minister Sukhbir Singh Badal, had sought to pitch himself as the next chief minister of the state.
The AAP has announced its list of candidates for all 117 seats. Although neither Kejriwal nor his party has said if he would contest the elections, there are still eight days left for filing nominations.
"He (Kejriwal) is our party's main face. Obviously we will ask for votes in his name. In Bengal, Mamata Banerjee too seeks votes in her name, doesn't she?" asked a senior AAP leader in Punjab.
Over the past few months, Kejriwal has been the most visible AAP face in cities, towns and villages of Punjab, with party supporters chanting the slogan "Kejriwal Kejriwal saara Punjab tere naal (Kejriwal, the whole of Punjab is by your side) and the leader's beaming face dominating placards and wall graffiti.
In Delhi, Sisodia's face has been splashed on the walls, warning against drinking in public and tom-tomming the achievements of the Delhi government.
Last August, the AAP had tweeted that Kejriwal was the only hope for Punjab.
AAP sources said one of the reasons why the party had refrained from projecting Kejriwal as the chief ministerial candidate was the identity politics prevalent in Punjab. Kejriwal, who is from neighbouring Haryana, ran the risk of being labelled as an outsider, they said.
The ruling Akali Dal's reaction to Sisodia's comments was in consonance with such a perception.
"By asking people to vote for Kejriwal as Punjab CM, Manish Sisodia has exposed their plans, proves it doesn't trust Punjabis.... Cat is out of the bag. Recent events prove that Kejri wanted to be CM all along and was only fooling people with misleading statements.... Arvind Kejriwal is fond of U-turns and lies. He earlier said that a Punjabi will be party CM candidate. Now he has jumped into the fray himself," tweeted Punjab deputy chief minister Badal.
He wondered what would be the fate of the Sutlej-Yamuna link canal and the Punjabi-speaking areas of Chandigarh - two long-pending disputes between Punjab and Haryana - if Kejriwal became chief minister.
Punjab Congress chief and former chief minister Amarinder Singh spoke on similar lines.
"All our disputes are with Haryana. So who will you stand with - Punjab or Haryana - if you become CM?" Amarinder tweeted.