Rahul alleges PM Modi carried parallel negotiations in Rafale deal; supports claim with 'proof'
Carrying a Defence Ministry note dated November 24, 2015; which was written by Defence Secretary was brought to the notice of then Defence Minister Manohar Parrikar and raised strong objections to "parallel negotiations" conducted by the Prime Minister's Office (PMO) with the French side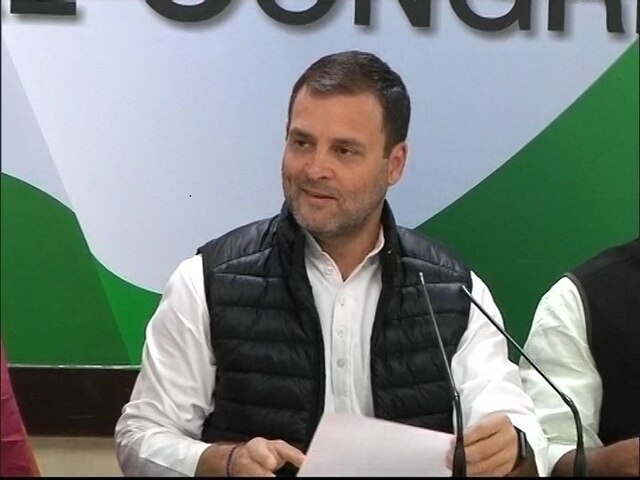 New Delhi: Congress President Rahul Gandhi on Friday reiterated his "Chowkidaar Chor Hai" jibe against Prime Minister Narendra Modi over the controversial €7.87 billion Rafale deal between India and France. This time however Rahul Gandhi didn't throw darts in the air and came with a proof in hand.
Quoting a report of English daily, The Hindu Congress President said that PM Modi carried out parallel negotiations with French government over Rafale, which weakened the actual negotiations being done by Defence Ministry.
Carrying a Defence Ministry note dated November 24, 2015; which was written by Defence Secretary was brought to the notice of then Defence Minister Manohar Parrikar and raised strong objections to "parallel negotiations" conducted by the Prime Minister's Office (PMO) with the French side; Stating that it was clear that such parallel discussions by the PMO had "weakened the negotiating position of MoD and Indian Negotiating Team."



Defence Minister #nirmalasitharaman in Lok Sabha: Then Defence Minister #manoharparrikar replied to that #MoD note that remain calm, nothing to worry, everything is going alright. Now, what do you call the NAC led by #SoniaGandhi interference in earlier PMO? What was that?


— ABP News (@abpnewstv) February 8, 2019


Courtesy: The Hindu

ALSO READ: Modi govt can use law against everyone, including Robert Vadra, but must answer questions on Rafale deal: Rahul

The note said that "we may advise PMO that any Officers who are not part of Indian Negotiating Team may refrain from having parallel parlays [parleys] with the officers of French Government," it suggested that "in case the PMO is not confident about the outcome of negotiations being carried out by the MoD, a revised modality of negotiations to be led by PMO at appropriate level may be adopted in the case."

Hitting out at PM Modi, Rahul Gandhi said "PM Modi stole Rs 30,000 crore of Air Force and gave it to his friend Anil Ambani". He further said that the government has also lied in the Supreme Court and therefore its judgment on Rafale deal is also questionable.






LIVE: "Since Govt has lied to SC, the entire judgment is in question" says @RahulGandhi https://t.co/DklVA2CsOX pic.twitter.com/e5vZwDYfiQ


— ABP News (@abpnewstv) February 8, 2019



Then Defence Secretary clarifies:

Soon after Rahul Gandhi's press conference, then Defence Secretary G Mohan Kumar issued a statement, claiming that his note had nothing to do with the Rafale negotiations.

ALSO READ: Rafale deal: Defence Ministry's dissent note had nothing to do with pricing, says ex-Defence secy