Rain brings respite from heat in Delhi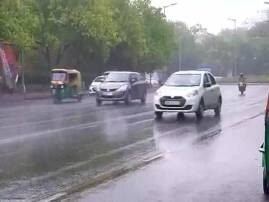 New Delhi: Heavy pre-monsoon showers and gusts of wind brought respite from scorching heat and humidity in the capital on Monday but disrupted traffic in several places.
Light to moderate rain was reported in almost every area of Delhi and the National Capital Region.
ALSO READ
: 
Man kills son on Father's Day
The temperature dropped from 38.4 degrees Celsius at 11.30 a.m. to 26 degrees after the rains, an India Meteorological Department (IMD) official said.
According to the weather office, 9.2 mm rain was measured between 11.30 a.m. and 2.30 p.m. at Safdarjung and 3.2 mm rain in Lodhi Road region in south Delhi.
Delhi witnessed the maximum 31 mm rain at Aya Nagar in south Delhi while Palam region closer to the airport recorded just 2.8 mm rain.
"Light to moderate rain is expected in Delhi and NCR in next few hours," the Met office said.
The rains brought respite to people from the dragging warm weather. Many people came out of their homes to enjoy the showers. A few got to the roof tops to get drenched.
"It was a much needed rain as the weather was becoming unbearable," said Yogesh Gupta, a resident of Karol Bagh in the heart of Delhi.
Though the pre-monsoon showers made the weather pleasant, it derailed traffic movement across several stretches in the city.