Rajasthan elections: 5-time BJP MLA Surendra Goyal resigns as minister, quits party
The 200-member Rajasthan assembly will vote on December 7 along with Telangana.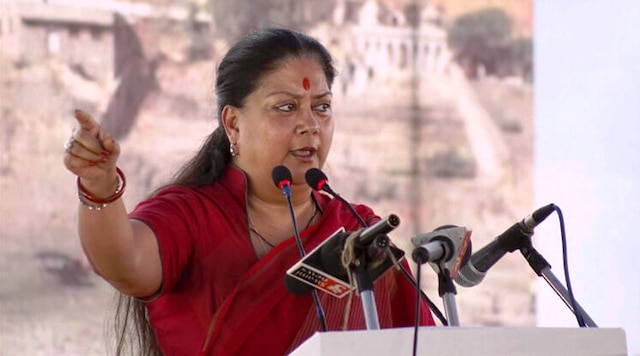 JAIPUR: With less than a month to go for assembly elections, Rajasthan minister and BJP MLA Surendra Goyal has resigned from his port and the party on Monday. He was reportedly unhappy after being dropped by the BJP in its first list of candidates for the upcoming polls. Goyal, the public health engineering and ground water minister who represents the Jaitaran constituency, has sent his resignation to Chief Minister Vasundhara Raje and the party's state president, Madan Lal Saini.
In its first list of 131 candidates released on Sunday night, the BJP has fielded a new face, Avinash Gehlot, from Jaitaran dropping Goyal, the five-time MLA.
The BJP on Monday released its first list of 131 candidates for the December 7 Rajasthan Assembly polls. Chief Minister Vasundhara Raje will contest from her traditional Jhalrapatan seat.


The names were released after detailed deliberations at a meeting of the party's Central Election Committee that decided to field 85 outgoing MLAs, including some of heavyweights and Raje's cabinet ministers. Of the 131 candidates announced for 200 seats, 25 are first timers. The party has given tickets to 12 women candidates.




Rajasthan Minister and #BJP MLA Surendra Goyal resigns from primary membership of BJP pic.twitter.com/FhShpojctx


— ANI (@ANI) November 12, 2018



The 200-member Rajasthan assembly will vote on December 7 along with Telangana. In 2013, the BJP had won 163 seats in Rajasthan and the Congress secured 21 seats.

In the final opinion poll conducted by the ABP News, the results revealed that in the case of Rajasthan, the Congress party is likely to relinquish power with a tally of 110 seats while the ruling party BJP may have to face a defeat with 84 seats.

Congress is said to snap up 45 per cent vote share while BJP may get 41 per cent. The ABP News Lokniti CSDS opinion also said that Congress will lead in North, West and Haroti regions while BJP will have an edge in Central, Matsya and Southern region.