Ram Temple: 3000 saints conclude 'Dharmadesh'; UP Dy CM Maurya says nobody can stop temple from being built
Many saints who participated in the two day grand meeting, said that the work for building Ram Temple will begin next month.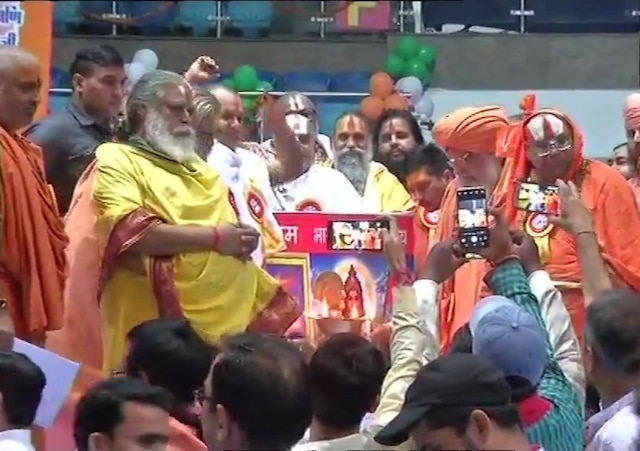 New Delhi: The "Dharmadesh" meeting which is being attended by 3000 saints concluded today in New Delhi's Talkatora stadium. The 3000 saints came up with a call on the building of Ram Temple at the disputed Ayodhya site at the end of the meeting, which was organised in a bid to discuss the issue. Many of the saints have also claimed that the construction works will begin in the next month.

Jagat Guru Rambhadracharya who has been felicitated with Padma Vibhushan, India's second highest civilian honour, said: "The work on Ram Temple will begin from December 6, 2018, onwards."

Keshav Prasad Maurya's statement:

Uttar Pradesh Deputy CM Keshav Prasad Maurya said "no power in the world can stop the Ram Temple from being built. We are waiting for Supreme Court's verdict but still I can claim that nobody can stop us from building Ram Temple".

"A single brick by Babur will not be allowed to be laid at the birth place of lord Rama" he said.

BJP ministers come together on the issue:

On Saturday, Union ministers and other leaders and workers of BJP expressed solidarity for the construction of the temple by lighting earthen lamps.

Minister of state for parliamentary affairs and statistic and implementation in Modi led NDA government Vijay Goel organised an event named 'Jalao Ek Diya Ram Mandir ke Naam'. In the event the BJP ministers lit earthen lamps in front of the proposed Ram Temple model.