Raman Singh ecstatic with tribal students cracking IIT from remotest tribes of Bastar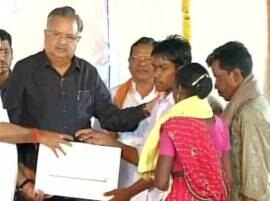 By:

ANI
Updated:
25 Jun 2016 02:58 AM
Raipur: With 27 tribal students hailing from Naxal-infested areas cracking the prestigious IIT-JEE examination, Chhattisgarh Chief Minister Raman Singh on Friday said it was a big milestone for the state as students from Gond, Muria, and Bhatra tribes, found in remotest parts of Bastar, have also achieved this coveted feat.
Singh, who turned emotional as he handed over MacBooks to the students for cracking the toughest engineering entrance examination, said 'there cannot be a more proud moment for him than to see his children achieving success.'

The 27 tribal students, who hail from families, extremely unaware about the IIT, achieved this coveted feat, courtesy Chhattisgarh Government's 'Prayas Programme' - a special coaching initiative of the state's tribal welfare department.

"In 2006, 2007, 2008, it was surprising to even find one or two students from the tribal areas cracking the engineering entrance examinations. It used to be big news then. But now the situation has completely changed," Singh said on the occasion.

"It is a big achievement for all of us. You have created a milestone. Today, it is not that only you (students) have passed. It was an examination for me and with you; even I have passed off with flying colours. We will try very hard to ensure that this number of 27 soon reaches 100 and many more," he added.

On the occasion, Singh also felicitated their parents for being the source of inspiration of the children.

The Chief Minister further said that the students, who cracked IIT, should not worry about paying the fee for the institute as the government would be providing them education loans on zero percent interest.

"As a father, there cannot be a more proud moment for me to see that my children have been successful. I extend my heartiest congratulations to all the students, their parents and the teaching institutes and wish them all the very best," he said.

"We want that we produce many engineers, doctors and bureaucrats so that they serve our state, their native places and become the central points of bringing about change in the whole state," he added.

Savitri Kashyap, who resides in Kurandi village located in Chhattisgarh's Bastar district, secured an all-India rank of 1,135 in the prestigious engineering examination and is now serving as a source of inspiration for all other youngsters in her village.

She told ANI that apart from getting skills at the school of the Prayas Programme, the teachers over there also became a major source of inspiration for her.

Another student who cracked IIT entrance, Yogesh, said that one has to focus on Maths and Physics in order to crack the entrance examination.

He added that another important aspect of preparing for IIT is time management.

Around 90 students, including 80 boys and 10 girls, had cleared the IIT-JEE Mains exams, out of which, 27 cracked the IIT Advance as well.

The Prayas Programme was launched by Chhattisgarh Government in July 2010 under which meritorious students from the Left Wing Extremism (LWE) districts and other tribal areas were kept in tribal hostels in the state capital and were imparted coaching along with the regular studies at the higher secondary level.