Reserve Bank keeps repo rate unchanged at 6.5 pct, says inflation risks have gone up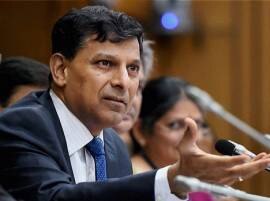 By:

ANI
Updated:
07 Jun 2016 08:20 AM
NEW DELHI: Reserve Bank of India (RBI) Governor Raghuram Rajan today kept the benchmark repo rate unchanged at 6.5 percent, largely on the back of strong economic tailwinds in the near future.
However, the central bank warned that inflation risks were on the upside even as it retained the inflation targets set out in the April policy.
Rajan kept key policy rates like the Cash Reserve Ratio (CRR) and Statutory Liquidity Reserve ( SLR) unchanged.
ALSO READ: 'Can't spoil the fun press is having', Raghuram Rajan maintains suspense on second term
The RBI Governor said it is time to wait and watch the monsoon play out and how it affects food prices.
Citing concerns related to inflation and rising commodity prices internationally, the central bank chose to hold onto its scissors for now as its policy stance continues to remain accommodative.
The GDP growth target for the current fiscal has been retained at 7.6 percent by the RBI. Since the rate-cutting cycle began in January 2015, the key policy repo rate has been cut by 150 basis points to 6.50 percent.
ALSO READ: Bihar: FIR against 10+2 Arts, Science toppers
Talking about the Non-Performing Assets (NPAs), Rajan said the RBI is working with the Centre and SEBI on cleaning banks' balance sheets.
"The RBI will soon review implementation of marginal cost lending rate framework by banks," he added.
However, only about 75 percent basis point cut has been passed on to customers by the banks on the lending side.
This will be the last time Rajan will get to decide on the rate as a joint committee, comprising of the government and RBI nominees, will take over from the next policy meet.
Retail inflation, which is largely driven by food prices, inched up to 5.4 percent in April from 4.8 percent in the previous month, making it difficult for the RBI to cut rates any further.
Expressing his views on the same, Rajan said: "Retain April policy inflation projection is focused with an upward bias. We will continue to provide liquidity as required."
Speaking in tandem with the RBI Governor, his deputy S.S. Mundra stated about the central bank's punishing Asset Quality Review (AQR) regime, which has forced banks to recognize and provide for stressed loans worth thousands of crores.
"Banks will have to further increase their provisioning coverage ratios (PCR) going forward. Can't say whether the worst is behind for banks," added Mundra.
Commenting over lending rate cuts, Rajan said that while the Marginal Cost of Funds based Lending Rate (MCLR) has been rolled out and will be reviewed, adding the banks should cut rates as they get back to health and competition kicks in.