RS Deputy chairman election: Ally SAD to now support NDA
The Rajya Sabha election will be held at 11 am on August 9.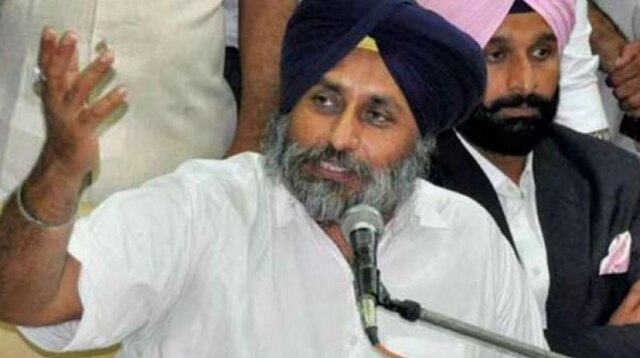 New Delhi: After reports on Shiromani Akali Dal's resentment over government's 'decision to choose JD(U)' candidate for representing NDA for Rajya Sabha Deputy Chairman's post; SAD on Tuesday declared 'that it would support NDA' during the election. 
The decision was taken during a meeting with Parkash Singh Badal.

Earlier, reports were suggesting that because of being unhappy with the chosen candidate for the Rajya Sabha Deputy chairman Election, y Shiromani Akali Dal is likely to abstain from the voting.

As per sources, the decision was earlier taken at a meeting of SAD leaders at the residence of its President Sukhbir Badal.

The party has three lawmakers in the upper house, including Naresh Gujral, whose name was also in contention.

Though the BJP-led NDA is yet to make any formal announcement, sources said that JD(U) MP Harivansh Narayan Singh, is likely to be their choice for the post.

The Rajya Sabha election will be held at 11 am on August 9.

Why JD(U) candidate for Deputy Chairperson of Rajya Sabha?

In the wake of recent friction between JDU Chief Nitish Kumar and Bhratiya Janta Party, the latter has decided to make former's party MP as its candidate for the election.

The move is being seen as government's attempt to keep NDA intact and together and show a message that all is well between JDU and BJP.

Who is Harivansh Narayan Singh?



Harivansh Narayan Singh has been JD(U) Rajya Sabha Member of Parliament since 2014




Has been a journalist by profession









Has been an Editor of Prabhat Sabha newspaper










Of total 245 seats; NDA holds 115 seats, UPA holds 113 seats, other parties hold 16 seats and 1 seat is empty. Now, for majority a party needs 125 seats; which near UPA nor NDA has; therefore other parties will be in focus during the voting.

The post of the Deputy Chairman has been lying vacant since June this year following the retirement of P J Kurien, who was elected to the Upper House of Parliament on a Congress ticket from Kerala.