RSS Foundation Day: "This Govt Has Courage," Mohan Bhagwat Hails Centre's Move On Article 370
HCL founder Shiv Nadar is the chief guest at the Foundation Day event of the right wing outfit.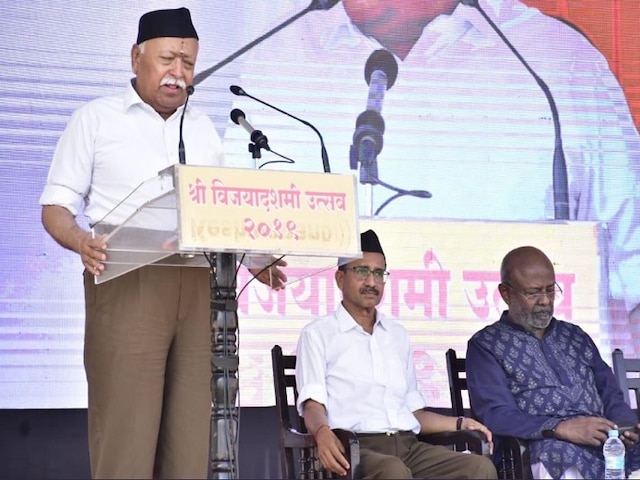 New Delhi:  RSS Chief Mohan Bhagwat started his address on the occasion of the Foundation Day of the right wing outfit, by hailing the courage of the re-elected Modi government for abrogation Article 370 which gave special status to Jammu and Kashmir.

"The move of the re-elected regime to nullify Article 370 has once again proved that it has the courage to fulfil those expectations and respect people's sentiments and wishes in the interest of the country," the RSS Chief said at its Vijaya Dashmi event in Nagpur.

He also rejected the reports about increased lynching in the country and said that branding some incidents of social violence as 'lynching' is actually meant to defame India, Hindu society and to create fear among some communities.

In an underlying jibe at the opposition, Bhagwat said: "A developed Bharat creates fear in the minds of vested interests: such forces don't not want Bharat to be strong and vibrant."

The Rashtriya Swayamsewak Sangh (RSS) which celebrates its foundation day on the Hindu festival of Dussehra, is marking this year's Vijaya Dashmi event at its Nagpur headquarter, with HCL founder Shiv Nadar as the chief guest.

Nadar, an Indian industrialist and philanthropist, is the founder and Chairman of HCL and the Shiv Nadar Foundation.

This year's Vijaya Dashami event began at around 7.40 a.m.

It is the single largest annual event of the saffron outfit which is celebrated with much fanfare. RSS supremo Mohan Bhagwat, along with the entire top brass of the Sangh, was in attendance.

Maharashtra CM Devendra Fadnavis, Union Ministers Nitin Gadkari and General (retd.) VK Singh were also present at the event.

All the big names associated with the Sangh were present at the event and took part in the 'RSS-Path Sanchalan March,' in Nagpur.

Last year, former President Pranab Mukherjee was the chief guest at the same event which drew much criticism from within his family.