Ruckus in LS over Maharashtra violence; Cong blames RSS, seeks PM's response
"Congress is using the policy of divide and rule, on the other hand PM Modi is following the policy of sabka sath and sabka vikas to get the nation together" Ananth Kumar hit back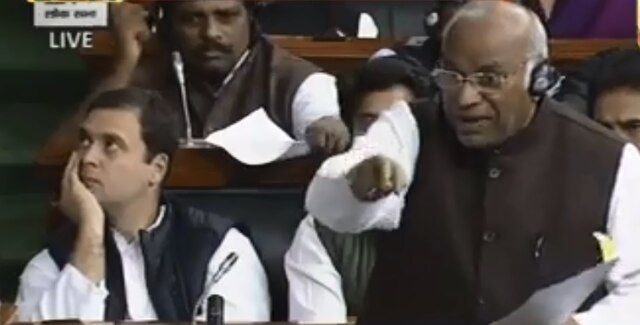 New Delhi: Massive ruckus could be seen in the Lok Sabha on Wednesday over the violence in Maharashtra as Congress party blamed RSS and BJP for the same. Speaking in the lower house of parliament senior Congress leader Malikarjun Kharge said, "Supreme Court judge should be appointed for inquiry in Bhima Koregaon Violence; PM should also give a statement, he can't stay mum! He is a 'Mauni baba on such issues"



A central pillar of the RSS/BJP's fascist vision for India is that Dalits should remain at the bottom of Indian society. Una, Rohith Vemula and now Bhima-Koregaon are potent symbols of the resistance.


— Office of RG (@OfficeOfRG) January 2, 2018
Hitting back at Kharge Union Parliamentary Affiars Minister Ananth Kumar accused the party of dividing the country and said, "Congress is using the policy of divide and rule, on the other hand PM Modi is following the policy of sabka sath and sabka vikas to get the nation together".
He further added saying, "Instead of dousing the fire, Rahul Gandhi, Kharge and Congress party are working towards fueling the fire. The nation will not tolerate this".
Several towns and cities of Maharashtra were on the edge on Wednesday as Dalit protests against yesterday's violence in Pune spilled over to capital Mumbai, with the agitators damaging buses and disrupting road and rail traffic.
Clashes between Dalit groups and supporters of right-wing Hindutva organisations, during the 200th anniversary celebrations of the Bhima-Koregaon battle in Pune district, had left a man dead on Tuesday.