"Not Been Elected MP To Clean Drains And Toilets," Sadhvi Pragya Stokes Fresh Controversy; Watch Video
Bhopal MP Sadhvi Pragya Singh Thakur, who has previously given controversial statements on Nathuram Godse and 26/11 martyr Hemant Karkare, has now said that she has not been elected a Parliamentarian to clean people's toilets and drains.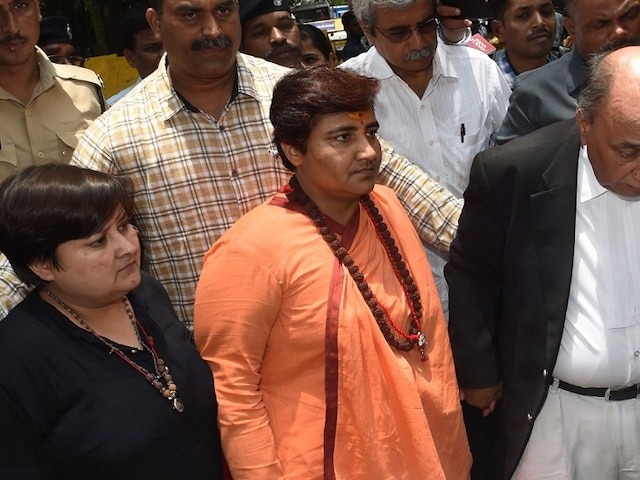 New Delhi:
Stoking a fresh controversy BJP MP from Bhopal, Madhya Pradesh, Sadhvi Pragya Singh Thakur on Sunday said that she had not been elected as a Parliamentarian to clean drains and toilets. The statement has been sternly criticized by the Congress party, which, it said, has "exposed" the "hollowness" of the BJP's flagship 'Swachh Bharat' campaign.
"We have not been elected to clean your drains or toilets. I have said this in the past and I am repeating it now," she said, apparently tossing aside the clean India campaign.
"We will with all honesty do what we have been elected for, so keep in mind, we are not here for cleaning a drain. Is that clear?" she said at Sehore in Bhopal, when a party worker complained about the unhygienic conditions in the town that was the district headquarters for Bhopal district till the mid 1970s.


"An MP should be asked for parliamentarian's work. MP's work is to join hands with MLAs, corporators and public representatives for development," she said.

"You get my phone number with ease and call me up. I will be here after the Lok Sabha session gets over," she said.

Thakur said she would give a "patient hearing" to the workers once the Parliamentary sessions gets over.

"Whatever the problem is it will be resolved. The funds we get (as an MP) will be used for public good," she said.

A small clip of her statement was shared by news agency ANI on Twitter. Watch here:




#WATCH BJP MP from Bhopal, Pragya Thakur in Sehore: Hum naali saaf karwane ke liye nahi bane hain. Hum aapka shauchalaya saaf karne ke liye bilkul nahi banaye gaye hain. Hum jis kaam ke liye banaye gaye hain, vo kaam hum imaandaari se karenge. #MadhyaPradesh pic.twitter.com/VT4pcGKkYx


— ANI (@ANI) July 21, 2019



The ruling Congress in Madhya Pradesh has criticised Thakur's statement, "It makes clear that the BJP only believes in slogans and 'jumlas'... it is not even remotely interested in development and public benefit," Congress spokesperson Shobha Oza said.

Thakur had triggered a uge controversy in the run-to her Lok Sabha elections as she had termed Mahatma Gandhi's assassin Nathuram Godse a "patriot". She had also claimed that the then Maharashtra ATS chief Hemant Karkare was killed in the 26/11 Mumbai terror attacks due to her "curse".

Her statement on Godse had evoked strong rebuke from Prime Minister Narendra Modi who had said that he would never forgive her for insulting the Father of the Nation.