List of 124 MLAs with signatures given to Gov, Palanisamy stakes claim to form govt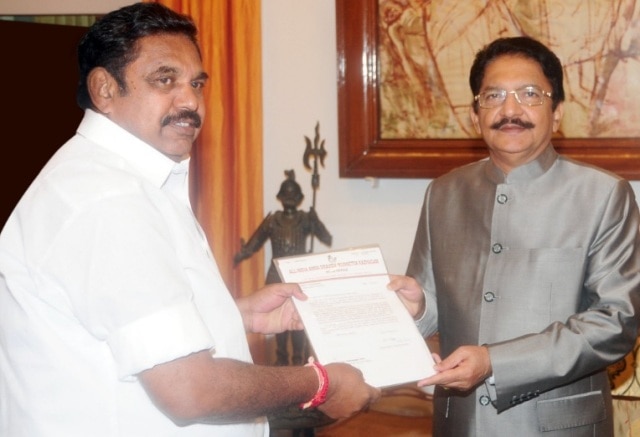 NEW DELHI/CHENNAI: Newly elected AIADMK Legislature Party Leader Edappadi K Palaniswami on Tuesday met governor Ch Vidyasagar Rao and staked claim to form the government.
In his brief meeting with the Governor, Palaniswami presented a list of MLAs supporting his claim. Some senior leaders and ministers also accompanied Palaniswami, according to sources.
Cracking the whip, AIADMK General Secretary VK Sasikala today expelled rebel leader O Panneerselvam and 19 other senior leaders from the party's primary membership.
All that happened on Tuesday:


Police force at Kuvathur is given direction to evacuate MLAs from Kuvathur, DGP likely to take final call on forced eviction.


Sasikala likely to stay back tonight at Kuvathur, Police have reportedly been asked to clear MLAs.


After Edappady Palanisami meets governor, OPS Camp's RS MP Maithreyan and PH Pandian leave for Raj Bhavan. 7 PM is the appointment.


Governor may invite Edappadi Palanisamy to form govt says AIADMK MP Navaneethkrishnan


Palaniswami is not a fit person to hold the post, he's fit for nothing: S Chemmalai, AIADMK MLA in OPS camp


O Panneerselvam's camp MLA Chemmalai says "Signatures forcibly taken"


List of 124 MLAs with signatures handed over to Governor, EK Palanisamy stakes claim to form govt at Raj Bhavan.


 Tamil Nadu Governor Ch Vidyasgar Rao will meet this evening the newly elected AIADMK Legislature Party Leader Edappadi K Palaniswami, who is expected to stake claim to form government.


Palanisamy, who has urged Rao to let him form the government, has left the beach resort where the legislators supporting him are housed.


"Due to a few incidents, there had been a small impediment in continuance of her government. To remove this temporary impediment and to take forward the good governance of Amma, it is our duty to take steps according to our conscience," Panneerselvam said.




"This is our duty and way of showing our gratitude to her (Jayalalithaa)," he said.


CM O Panneerselvam made a fervent appeal to those in Sasikala's camp to go by their "conscience" in taking forward the government that was led by 'Amma' (Jayalalithaa).


Letter signed by MLAs supporting Edapadi K. Palanisamy as the AIADMK's legislature party leader sent to honourable Governor


The legislature party leader is Edapadi K. Palanisamy. O Panneerselvam removed from primary membership of the party: AIADMK





AIADMK's legislature party leader- Edapadi K.Palanisamy.


— AIADMK (@AIADMKOfficial) February 14, 2017

O.Paneerselvam removed from primary membership of AIADMK

— AIADMK (@AIADMKOfficial) February 14, 2017



Sasikala holds emergency AIADMK legislators meeting at Koovathur resort to elect a Legislature Party Leader.


Chennai: O Panneerselvam's supporters celebrate, burst firecrackers after VK Sasikala's conviction


DMK terms judgment 'historic'


SC, however, abates the appeal proceedings against J Jayalalithaa owing to her death on December 5 last.


AIADMK General Secretary Sasikala Natrajan will have to surrender herself to jail for undergoing remaining jail term.


SC quashes Karnataka HC verdict acquitting AIADMK General Secretary Sasikala Natarajan in the disproportionate assets case.


Sasikala to serve 4 years in jail: SC


ALSO READ:
O Panneerselvam all set to rise: Is political career of Sasikala Natarajan over?


Sasikala can't become CM for next 10 years


Supreme Court convicts Sasikala in disproportionate assets case


AIADMK senior leader M. Thambidurai reaches Golden Bay Resort in Kovathur to meet Sasikala, who is already present inside, reported ANI.


Bus carrying 19 MLAs who were held captive at Village Retreat Resort at Poondhandalam reaches Golden Bay Resort.


Image: ABP Live


Another MLA in OPS Camp, MLA Chemmalai (Mettur) extends his support to O Panneerselvam. Total Count 9.


Bench of Justices P C Ghose & Amitava Roy to pass its order on Sasikala
The bench of Justices P C Ghose and Amitava Roy, passed its order on a batch of appeals, including the one filed by the Karnataka government acquitting the main accused in the case, former Tamil Nadu chief minister the late J Jayalalithaa and three others, including Sasikala.
Since Jayalalithaa is dead, the case against her would be abated. The other accused in the case are Sasikala's relatives V N Sudhakaran and Elavarasi. All four had been convicted by the trial court, but acquitted by the Karnataka High Court.
Political future of Sasikala, a long-time friend of Jayalalithaa, would entirely hinge on SC judgement
Sasikala, who was elected AIADMK legislature party leader on February five, will be rendered ineligible for contesting an assembly election in the event of conviction, thereby stifling her ambition of becoming the Chief Minister.
The information about the likely Supreme Court order came on a day Attorney General Mukul Rohatgi advised Governor C Vidyasagar Rao to hold a special session of the state assembly within a week for a floor test to ascertain who between Sasikala and caretaker Chief Minister O Panneerselvam enjoys
majority support of AIADMK MLAs.
In his opinion, sources said, Rohatgi has stated that "he (Governor) should call a special session within a week's time and have a composite floor test as was ordered by the Supreme Court in the Jagdambika Pal case".
ALSO READ:
 D-Day for Sasikala: Security beefed up in Tamil Nadu ahead of DA case verdict
The Attorney General has cited the 1998 Supreme Court judgement in the Jagdambika Pal case in which the apex court had ordered a floor test in the assembly to determine who between the two claimants -- Pal and Kalyan Singh -- commanded the majority support for chief ministership of Uttar Pradesh.
If the Governor, who has kept his cards close to chest since last Thursday, the day Sasikala staked claim to form the government, goes by the AG's advise, the dispute between the rival AIADMK factions would be decided on the floor of the House.
The Governor can also swear in Sasikala without the assembly having to go through the rigour of a floor test as she has already been elected the AIADMK legislature party leader.
SC to deliver its judgement in disproportionate assets case against Sasikala on Tuesday, 14th Feb, 2017. ABP Live
Panneerselvam's revolt notwithstanding, she enjoys the support of an overwhelming majority of party MLAs, six of whom have shifted their loyalty to the caretaker Chief Minister.
Pannerselvam also has the backing of 11 MPs, including two of the Rajya Sabha.
The Tamil Nadu government today informed the Madras High Court, hearing habeas corpus petitions seeking production of two MLAs who were said to be lodged at a resort on Chennai's outskirts that apart from them 119 legislators kept there have recorded their statements saying they have not been illegally
detained.
Tamil Nadu has a 234-member assembly and Sasikala looks set for a facile victory during a floor test, but an adverse court verdict can put paid to her chief ministerial ambition.
Security tightened
Meanwhile in Kovathur (TN) security tightened outside Golden Bay Resort as a precaution in wake of today's judgement in DA case against Sasikala.
In the resort, MLAs supporting Sasikala are housed.
Likewise, security increased outside Poes Garden, as precaution ahead of SC's verdict in DA case against V K Sasikala, to be announced on Tuesday.
Image courtesy: ANI/Twitter