SC to reconsider fine punishment to Sidhu in road-rage case
Justice A.M. Khanwilkar and Justice Sanjay Kishan Kaul admitted a review petition filed by a son of deceased Gurnam Singh and issued notice to Sidhu, now a Punjab Cabinet Minister.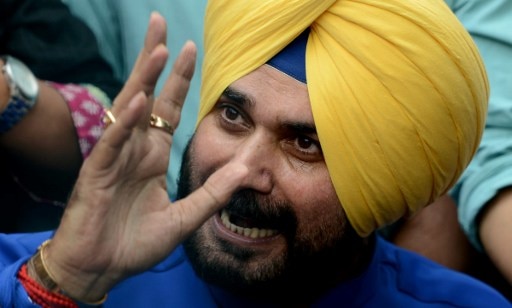 New Delhi: The Supreme Court on Wednesday agreed to reconsider the quantum of punishment to former cricketer Navjot Singh Sidhu as he had been let off with a fine of just Rs 1,000 for causing simple injury in a 30-year-old road-rage case.

Justice A.M. Khanwilkar and Justice Sanjay Kishan Kaul admitted a review petition filed by a son of deceased Gurnam Singh and issued notice to Sidhu, now a Punjab Cabinet Minister.

"Permission to file the review petition is granted... issue notice restricted to quantum of sentence qua respondent no. 1 - Navjot Singh Sidhu," the order said.

On May 15, the apex court had acquitted Sidhu of the charge of culpable homicide not amounting to murder, for which he had been awarded three-year jail.

A bench of Justice J. Chelameswar (now retired) and Justice Kaul had, however, convicted him for causing simple injury and imposed a fine of Rs 1,000 without any jail term.

The court also acquitted co-accused and his cousin Rupinder Singh Sandhu.

In its judgment, the bench had said: "No doubt that there are lapses in the investigation. We cannot hazard a guess whether such lapses occurred because of the general inefficiency of the system or as a consequence of a concerted effort made to protect the accused. The law of this country is not that people are convicted of offences on the basis of doubts."

Setting aside the Punjab and Haryana High Court verdict that convicted Sidhu, the apex court had said: "... the first accused cannot be held to be responsible for causing the death of Gurnam Singh. Therefore, the judgment under appeal is required to be set aside and is accordingly set aside. The material on record leads us to the only possible conclusion that we can reach that the first accused voluntarily caused hurt to Gurnam Singh punishable under Section 323 of the IPC."

Section 323 (voluntary causing hurt) of the Indian Penal Code stipulates a punishment of imprisonment of either description for a term which may extend to one year or with fine which may extend to Rs 1,000 or both.

The bench had refused to award jail term to Sidhu and only imposed a fine, while considering that the "case is 30-year-old, there was no past enmity between the accused and the deceased, no weapon was used by the accused and the background in which it happened".

The incident dates back to December 27, 1988, when Sidhu and his cousin had beaten up Gurnam Singh and two others in what was described as a road-rage case. Gurnam Singh later died.

On April 12 this year, the Punjab government supported the High Court decision to convict Sidhu. It told the apex court that the 65-year-old victim had died after a fist blow from the cricketer turned politician.

The state had said there was no evidence at all to suggest that Gurnam Singh died due to cardiac arrest and not brain haemorrhage.

In 1999, the trial court in Patiala had acquitted Sidhu and his cousin, saying the medical report stated that the death was due to a heart attack.

The High Court in December 2006 had overturned the lower court's decision. Sidhu was awarded three years in jail.

The apex court in 2007 stayed the conviction after counsel appearing for Sidhu had contended that High Court findings were based on opinions and not medical evidence.

Sidhu's lawyer had argued that there were deficiencies in the medical evidence and the prosecution witnesses had given different statements on oath before the trial court.