Lalu's RJD to nominate Sharad Yadav to Rajya Sabha from Bihar, Sources say
Lalu Prasad Yadav's RJD is all set to nominate rebel JDU leader Sharad Yadav to the Rajya Sabha from Bihar, sources said on Sunday.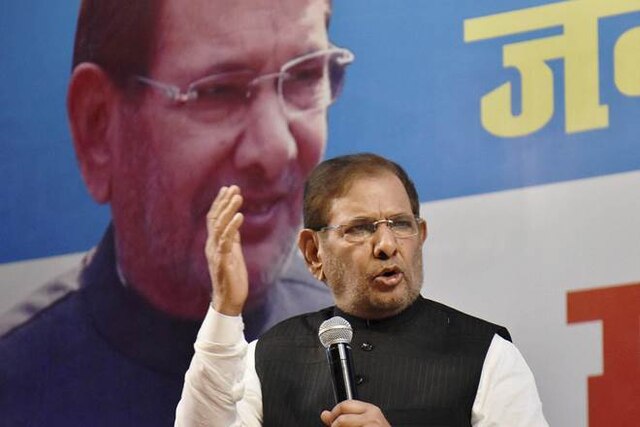 NEW DELHI: Sharad Yadav is all set to sail through Lalu Prasad Yadav's boat to the Rajya Sabha as the RJD is going to nominate the rebel JDU leader to the Upper House from Bihar, sources said on Sunday.

Six Rajya Sabha seats from Bihar will go to polls in March. The RJD has 79 MLAs in the 243-member Bihar Assembly. These numbers are enough for sending two of its nominees to the Rajya Sabha.

From the JDU's side, party state president Bashishtha Narayan Singh will be one of its Rajya Sabha candidate while former RJD MP Akhilesh Singh will be nominated by the Congress for the Upper House.

Sharad Yadav, who had opposed his chief Nitish Kumar's alliance with the BJP in Bihar, was removed by the JDU as the party's leader in the Rajya Sabha in August 2017.

Later, Vice President M. Venkaiah Naidu has disqualified Sharad as a Rajya Sabha member. The action was taken after Bihar Chief Minister Nitish Kumar faction filed a petition seeking the Rajya Sabha Chairman disqualify Sharad.

Nitish had upset Sharad by walking out of the Grand Alliance of the JDU, Lalu's RJD and the Congress, and formed a new government with the BJP as his ally in July last year.

Sharad, who was the NDA convener before Nitish snapped ties with the BJP in 2013, has been critical of the JDU chief's decision to rejoin the coalition. He since then had maintained close ties with the RJD.

Polls to 59 Rajya Sabha seats will be held on March 23 and the counting of votes will be held on the same day.

58 Rajya Sabha seats will be falling vacant in April while a by-poll for a seat from Kerala will also be held. M P Veerendra Kumar had resigned in December last year, though his term was to end in April 2022.