Shashi Tharoor wades into another row with comments on PM Modi's headgear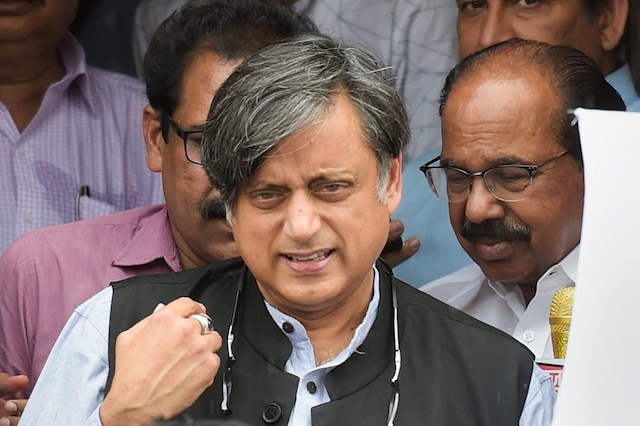 By:

PTI
Updated:
06 Aug 2018 10:11 PM
Thiruvananthapuram: Congress leader Shashi Tharoor has plunged headlong into a fresh row with remarks about Prime Minister Narendra Modi donning "outlandish" Naga and other headgear on his trips but refusing to sport a Muslim skull cap, comments the BJP dubbed as insulting to the people of the North-East.

Union Minister Kiren Rijiju also demanded that the Congress apologise for Tharoor's comments.

"I ask you why does our prime minister wear all sorts of outlandish headgear wherever he goes around the country or around the world? Why does he always refuse to wear a Muslim skull cap?

"You see him in Naga headgears with feathers. You have seen him in various kinds of extraordinary outfits which is a right thing for a prime minister to do. Indira Gandhi has also been photographed wearing various kinds of costumes. But why he still always says no to one?" Tharoor said.

The former union minister was addressing a seminar on "Standing up to hatred, violence and intolerance in contemporary India" here on Sunday.

Tharoor, who had recently kicked up a controversy with remarks that the BJP, if voted to power again, will rewrite the Constitution and pave the way for creation of a "Hindu Pakistan", said Modi shunned the green colour as he felt it was associated with Muslim appeasement.

"Why does he refuse to wear green, the colour that he says is identified with Muslim appeasement? What kind of talk it is?" he said.

Tharoor's comments drew a sharp response from Union Rijiju, who said the Congress leader's remarks insulted tribals and people from the North-East.

"I demand apology from the Congress Party for insulting the people of India's North East & Tribals. Shashi Tharoor described North-East people & Naga Tribal headgears as funny looking outlandish & hilarious," Rijiju, a native of Arunachal Pradesh, said on Twitter.

"Shashi Tharoor insults the proud cultural heritage of the people of North-East. This condescension & arrogance towards the people of India have become hallmarks of @INCIndia," Union Information and Broadcasting Minister Rajyavardhan Rathore tweeted.

BJP general secretary Ram Madhav also took to the micro-blogging website to say,"For Shashi Tharoor, Naga headgear is outlandish and hilarious. In his over zealous love for skull cap, Tharoor doesnt mind insulting d customs of d Nagas n other NE people."