Shivakumar apologizes for his mother's statement accusing Siddaramaiah over I-T raids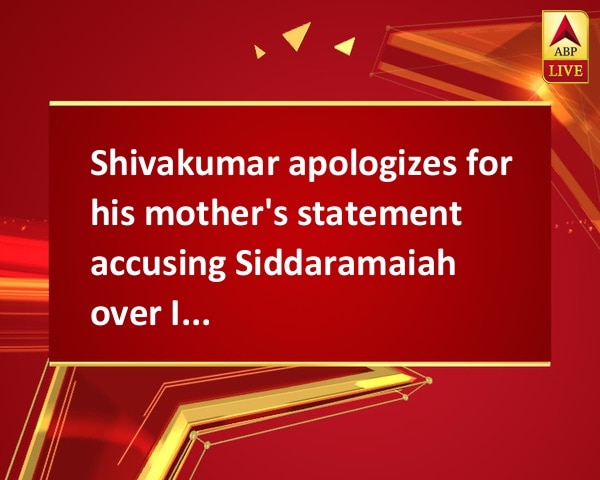 By:

ANI
Updated:
05 Aug 2017 07:35 PM
Bengaluru (Karnataka) [India], Aug 05 (ANI): Karnataka Energy Minister D.K Shivakumar on Saturday apologized for his mother's statement, in which she accused Chief Minister Siddaramaiah of being responsible for the Income-Tax raids on her son.
In a statement, Shivakumar clarified that it was a mistake by her side, adding that she's not literate and not even aware of in which Department IT comes.
He reiterated his loyalty to the Chief Minister and thanked him for supporting him during the raids.
"Siddaramaiah has always been sharpening the knife against my son. He could be behind the I-T raids. They are jealous of my son, they want to harm him. Siddaramaiah makes use of my son and has repeatedly betrayed him," Shivakumar's mother Gowramma told reporters who visited her house in Kanakapura taluk.
Shivakumar's house was also searched by I-T department officials till 2.30am on Thursday.
Gowramma further continued saying, "My sons (Shivakumar and D K Suresh) have been toiling to build the party. In fact, Siddaramaiah progressed in his political life because of Shivakumar. But today, Siddaramaiah is announcing Anna Bhagya (distribution of rice) and Ksheera Bhagya (distribution of milk), did he get money for these programmes from his father's house?. Why has Siddaramaiah not come out and asked I-T officials why they are raiding my son?".
Earlier in the day, the Income Tax department ended its raids at Shivakumar's various addresses.
The minister on Saturday thanked the leaders for supporting him at the time of crisis and said truth will come out soon.
The Income Tax department conducted raid at the residences of Shivakumar in Bengaluru and Delhi for consecutive three days.
Siddaramaiah earlier on Friday said that IT raid on Shivakumar is a politically motivated move.
Raising question over the intention of the Central Government, the Chief Minister said "such things don't happen in a federal structure".
Earlier in the week, Shivakumar's brother, Suresh Kumar, said that the Rs. 10 crore recovered during the raids by the income tax does not belong to the minister.
"The IT department raided a total of 70 places from where they have collectively seized Rs. 10 crore. The whole amount does not belong to D.K. Shivakumar and his family," said Suresh Kumar, and added that raids are politically motivated.
The IT department had also raided the house of the minister's father-in-law in Bengaluru.
The IT department on July 2 had raided Shivakumar's residence and at a private resort in Bengaluru, where Congress' MLAs from Gujarat are staying.
In the wake of incessant raids the Congress created ruckus in both the Houses of Parliament and alleged that the Bharatiya Janata Party (BJP)-led Central Government was indulging in political witch-hunt just to defeat Congress candidate Ahmed Patel in Rajya Sabha polls in Gujarat.
The IT department also maintained that its raid at Shivkumar's residence and resort has nothing to do with the Gujarat's Congress MLAs. (ANI)
This story has not been edited. It has been published as provided by ANI