SHOCKING VIDEO ! BJP MLA Balram Thawani caught on camera kicking woman; says it was self-defence
The victim Nitu Tejwani, who is also a leader of NCP, has registered a complaint against the MLA.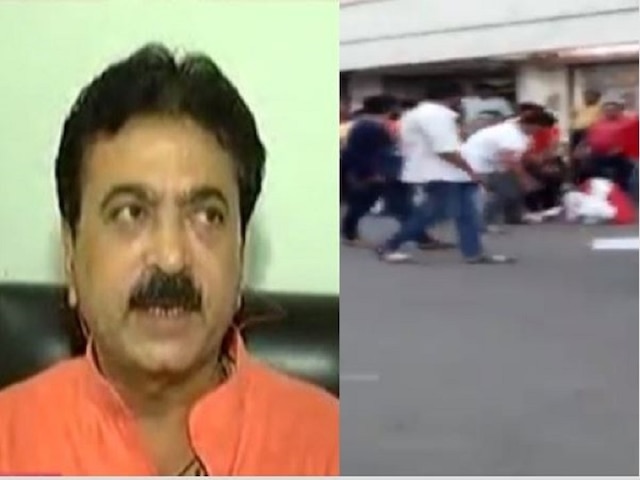 New Delhi:
 After a video of BJP MLA Balram Thawani kicking a woman went viral on social media, the Gujarat legislator said that he regretted the act but the only reason he did it was for self-defense.
On Sunday, a video of Thawani and his supporters surfaced on social media, in which he and his supporters, were seen thrashing brutally a woman in Gujarat's Naroda, the assembly seat from where Thawani is an MLA.
The woman had allegedly gone to Thawani to complain regarding water problems in the area. From what is seen in the video, it appears that Thawani lost his cool on woman's complaint and attacked her. Upon seeing an MLA kicking a woman, his supporters also started thrashing her.


The victim Nitu Tejwani, who is also a leader of NCP, has registered a complaint against the MLA.

Tejwani an NCP leader from Naroda said after the incident: "I had gone to meet BJP MLA Balram Thawani over a local issue but even before hearing me he slapped me, when I fell down he started to kick me. His people also beat up my husband. I ask Modi ji, how are women safe under the BJP rule?"

Vadgam MLA Jignesh Mewani tagged Ahmedabad Police and DGP Gujarat and shared the video on Twitter.




गुजरात के विद्यायक महिला को लाते मारते हुए :


अहमदाबाद के नरोडा ईलाके में पानी की किल्लत की शिकायत करने गई एक महिला को गुजरात भाजपा के 'माननीय' विधायक बलराम थावानी ने खुलेआम बेरहमी के साथ पिटा ! @dgpgujarat, @AhmedabadPolice आप तुरंत गिरफ्तारी कीजिए! यह हरगिज नहीं चलेगा! pic.twitter.com/6mV7EmC6KV

— Jignesh Mevani (@jigneshmevani80) June 2, 2019



#WATCH BJP's Naroda MLA Balram Thawani kicks NCP leader (Kuber Nagar Ward) Nitu Tejwani when she went to his office to meet him over a local issue yesterday. Nitu Tejwani has registered a complaint against the MLA. #Gujarat pic.twitter.com/dNH2Fgo5Vw


— ANI (@ANI) June 3, 2019



Thawani later justified his act saying he had been attacked first. He said a group of people came to him with a complaint and when he tried to reason with them he was attacked.

"When I told them I would take up the matter with officials of the corporation on Monday as it was a Sunday that day, one person hit me from behind. In self defense, I also kicked randomly, which could have accidentally hurt the woman. On watching the video I realized it was big mistake on my part and I shouldn't have done it" Thawani said.