South East Asia's smallest baby delivered in India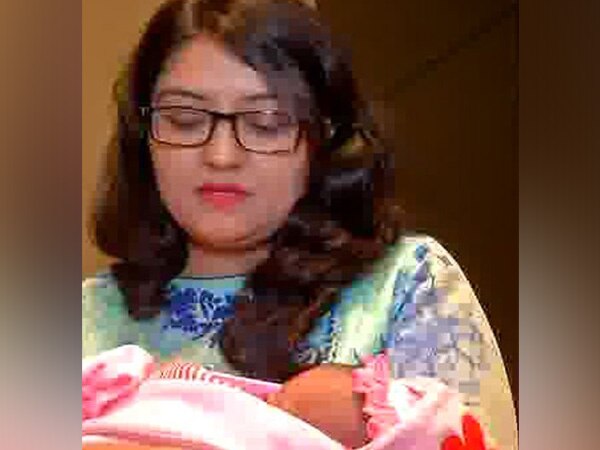 By:

ANI
Updated:
21 Jul 2018 10:35 PM
Hyderabad (Telangana) [India], July 21(ANI): Cherry is the smallest baby delivered in South-East Asia.
The baby girl weighed around 375 grams at the time of birth and was a preterm delivery with the gestation period of 25 weeks.
Speaking to ANI, the mother of the smallest baby Nitika said, "We shifted to Hyderabad from Chattisgarh, there was nothing planned. We had faced difficulty in this journey. We scared when we got to know that preterm delivery going to be performed. Hospital doctors and staff responded to us very positively. There were very less chances for our baby to survive, we moved ahead with a positive thinking that our baby will be fine."
During the discharge, the baby was healthy and weighed around 2.5 kilograms.
Dr. Nitasha, Senior Neonatologist at Rainbow Hospital told ANI that the baby was born on 27 February 2018 with the birth weight of 375 grams and length of 26 centimeters.
She further said, "The baby is the smallest in South-East Asia. Earlier The baby's mother Nitika when she was on her 24th week of pregnancy, ultrasound report showed that there was very less amniotic fluid around baby in the womb," adding, "The blood flow from mother to the baby was severely compromised. Further stay in the womb for the baby would have resulted in baby's death. So we suggested the delivery. Nitika has undergone preterm scissoring on her 25th week. There were many challenges when the baby delivered. We have calculated everything including how much feed and medication should be given to the baby."
The doctor also revealed that the baby faced two life-threatening events but she came out victorious.
Dr. Nitasha said that they counselled the parents about the risks of the operation and risks to the child but the parents and the baby were really strong.
"The baby was on the ventilator for 105 days after delivery, we have taken every measure to make her grow. In total the baby spent 128 days in the hospital before discharge. Now the baby Cherry is 2.45 kilograms and 45 centimeters long," she added.
(ANI)
This story has not been edited. It has been published as provided by ANI