Starvation deaths: Father gave `unknown medicine` to girls, says SDM report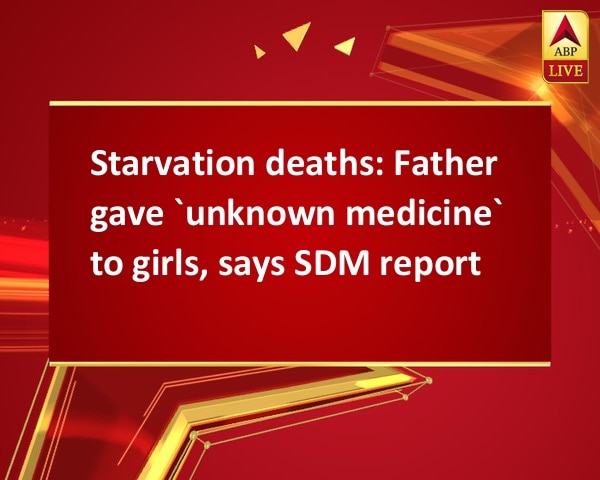 By:

ANI
Updated:
27 Jul 2018 09:35 PM
Mohit Bakshi
New Delhi [India], July 27 (ANI):The Sub-Divisional Magistrate (SDM) of Preet Vihar in East Delhi in his report on Friday said that the three girls who died in Mandawali recently were given some unknown medicine mixed in hot water by their father, Mangal Singh, before they died.
Three sisters aged 8, 4 and 2 years were found dead on July 24 morning in Madawali area in East Delhi. Their post mortem report claimed that the girls possibly died due to starvation as their stomach was empty. Following their death the Delhi Government had ordered a SDM level inquiry to find the possible reasons behind the deaths.
"The facts, that all the three children died during the same day in the morning hours of July 24, her father Mangal Singh gave some unknown medicine by mixing in the hot water to all the three children during the night of July 23, and the father Mangal Singh has not returned since the morning of July 24 raise an element of doubt of matter and require further investigation in the matter," SDM Arun Gupta said in his report, that was accessed by ANI.
SDM Gupta further said that the three girls were suffering from loose motions and vomiting which may have been due to some stomach infection but they were not provided proper medicines or adequate ORS solution which may have caused dehydration. Mother of the children, Benu Singh, is mentally unstable and not in a position to depose before the SDM.
The report added said that the elder girl, who was 8 year old, appeared ill on Monday (July 23) and was also vomiting. She was also provided mid-day meal in the school but she could not eat that due to ill health. The report further pointed out that the 8-year-old had a bank account in her name in the Corporation Bank that had an amount of Rs 1,805. However, the money was not withdrawn from the bank. Copies of attendance register and admission form too have been collected by the SDM.
"Considering the living condition of the family and above statements, it seems that nutritional condition of the deceased children was not quite well although the children were getting some food items regularly," the SDM report said.
The SDM report was submitted to District Magistrate (East) Shahadara Zone K. Mahesh who has recommended a full-fledged inquiry by police in the matter. (ANI)
This story has not been edited. It has been published as provided by ANI