Stray Cow Enters IIT Bombay Classroom; Twitter In Splits!
Some of the users called the cow studious, others wondered how did it enter in the classroom in the first place!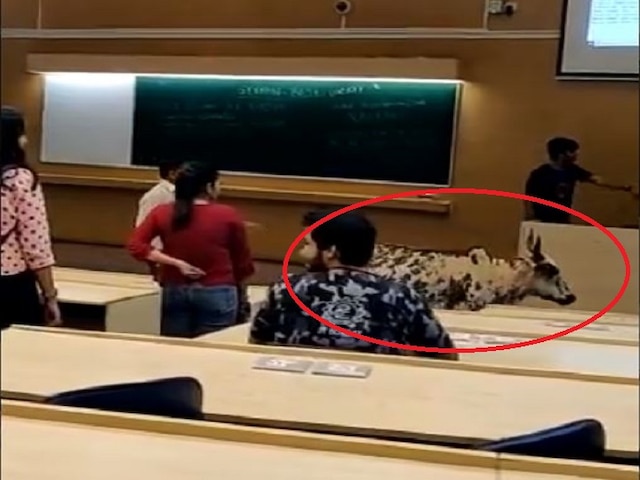 New Delhi:
Hours after a shocking video of a stray cattle interrupting a class in Indian Institute of Technology-Bombay was posted on the social media, it went viral and received a tons of shares and likes on Facebook and Twitter, embarrassing the authorities at the country's premier institute of learning. Speaking on the incident, an IIT-B spokesperson said it is not clear from the video when or where the incident occurred and that they are inquiring about it before issuing an official statement later today.
Students in a first-floor lecture hall, nevertheless were stunned and amused to see a bewildered white cow with dark spots and medium horns suddenly gallivanting inside their classroom, entering from one side and walking out of the door on the other side. Some students, who were taking a test, even got up and tried to shoo away the cow, but she went on her chosen route calmly without any fuss.
The cow in video just not left the students present in the classroom amazed, but the social media users were too taken by surprise over this bizarre incident in such a prestigious institute. While some of the users called the cow studious, others wondered how did it enter in the classroom in the first place! Here are some of the reactions from netizens:



Holy Cow!! She got in without JEE? Under which quota? ????????????


— सौरभ ???????? Saurabh (@saurabh_tikiya) July 28, 2019



Suicide bomber spotted ????????


— Adarsh Singh (@AdarshS22359822) July 28, 2019



Don't panic.. Its a case study for student.. Live demonstration


— Jaane bhi do Yaro (@mat_jane_de_yar) July 28, 2019



typical Indian mom behavior. came to check up how her kids are coping on the first day of college


— Sameer Sewak (@Naa_Cheese) July 28, 2019



Cancer theek karne ke baad ab Engineering ka degree lene pohchi Gau mata, Jai Shiv Shambhu likh ke 5 groups mein bhej de ????????


— Junglee (@Jungleex2) July 28, 2019



On reserved category,this cow must have got admission to IIT....,????????


— sku (@sreenathku) July 28, 2019



You have Poor SECURITY, that even a cow can enter in such Institutes.
Try to make it safe, NO BUT we will mock Cow and Hindu Beliefs for this.


That's a Nxt level Hypocrisy #चल_निकल_ले
.

— ARV (@v_ashutosh) July 28, 2019



she entered without clearing JEE.


— Nimarjeet Bajwa (@NimarjeetB) July 28, 2019



She's just finding her seat ????
Don't make it issue.
If IIT study cow, y she no study IIT? ????????


— SYED ???? (@Sfaisalmech) July 28, 2019



Why are they trying to take her out? She's there for the parent teacher meeting, for all her Sanghi kids attending IIT Bombay.


— Jas Oberoi | ਜੱਸ ਓਬਰੌਏ (@iJasOberoi) July 28, 2019



How did that ???? cow enter IIT BOMBAY without clearing JEE Advanced??#CowInIITBombay#IITBombay pic.twitter.com/D5xQEKGZ1W


— RAJ UJJWAL (@irajujjwal) July 28, 2019
In another viral incident, a cow was seen playing football with young boys in the playground. The two minutes 12 seconds video showed moments of the cow posing with the football, kicking it as if trying a curl or a topspin.



This is the funniest thing you will see today! pic.twitter.com/Kfz08Dka3Z


— Harsha Bhogle (@bhogleharsha) July 1, 2019
The IIT-B campus, in lush green environs bordering the Powai Lake is known to harbour a variety of creatures. Besides stray cattle, a leopard had recently taken refuge from the rains in the compound of one of the buildings, and there are a few crocodiles in the lake, but officials shrug it off as no great deal'.