Hundreds Pay Homage To Sushma Swaraj At BJP Headquarters, Last Rites At Lodhi Crematorium
Swaraj, who had a kidney transplant in 2016, had opted out of fighting the Lok Sabha elections this year due to health reasons.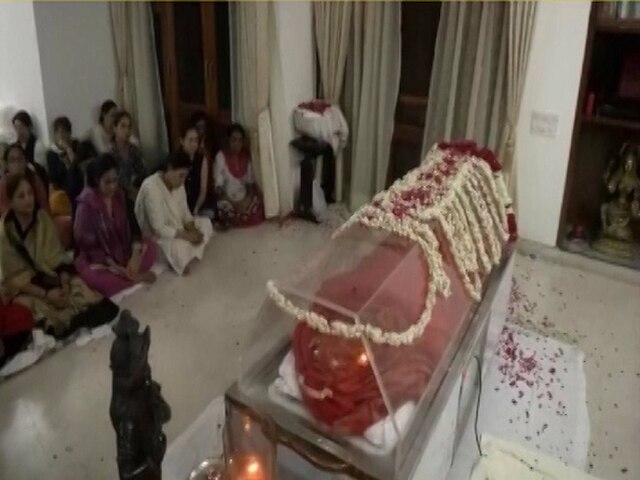 New Delhi:
 Hundreds of people paid their last respects to former external affairs minister Sushma Swaraj who passed away on Tuesday night at AIIMS after a cardiac arrest. The body was kept at the BJP headquarters for people to pay tributes. BJP working president J P Nadda said that the body will be kept at the party headquarters from 11 pm-2 pm for people to pay their respects after which, at around 3 pm, the body will be taken to the Lodhi Crematorium for the last rites.
A host of Union ministers and other senior party leaders visited AIIMS and met the bereaved family of the former external affairs minister.
Defence Minister Rajnath Singh, Finance Minister Nirmala Sitharaman, External Affairs Minister S Jaishankar, Law Minister Ravi Shankar Prasad, Health Minister Harsh Vardhan, Environment Minister Prakash Javadekar, HRD Minister Ramesh Pokhriyal and Union Minister Smriti Irani were among the top leaders who visited the hospital.


"Her loss is irreparable and the void left by her can never be filled. It's a huge loss to the party and the nation," Nadda said.

"We used to address her as 'didi' and the respect she commanded was phenomenal. She was fine in the morning and then, suddenly, we got this news. It is a painful loss for me and for the nation," he said.

As per PTI sources, Swaraj was taken to AIIMS around 9:30 PM in a critical condition and was straight away taken to the emergency ward where a team of doctors attended to her but could not revive the astute politician. The body was later taken to her Delhi residence.



Who Was Senior BJP leader Sushma Swaraj?



Swaraj, a law graduate who practised in the Supreme Court, was elected seven times as a member of Parliament and three times as a member of the legislative assembly.


She was married to Swaraj Kaushal, a designated senior advocate of the Supreme Court of India who served as Governor of Mizoram from 1990 to 1993. Kaushal was also a Member of Parliament from 1998 to 2004.


She started her political life with the Akhil Bharatiya Vidyarthi Parishad, the RSS' student wing, and later joined the BJP.


She was the Information and Broadcasting Minister in the 13-day Atal Bihari Vajpayee government in 1996 and got the Cabinet portfolio again after he led the BJP to power in 1998.


Always eager to take on a challenge, Swaraj contested against the then Congress president Sonia Gandhi in Bellary in 1999 Lok Sabha polls. Though she fell short of votes, she grew in stature.


Long seen as a protege of veteran BJP leader L K Advani, she also was the Leader of the Opposition in the Lok Sabha between 2009-14.


Swaraj had many firsts to her credit such as being the youngest cabinet minister in the Haryana government, first woman chief minister of Delhi and the first woman spokesperson for a national political party in the country.


Swaraj was external affairs minister from 2014 to 2019, leader of the Opposition in the Lok Sabha from 2009 to 2014, minister for information and broadcasting in Vajpayee government from 2000-2003. She was also chief minister of Delhi in 1998.