TN: Palaniswami passes floortest, 122 MLAs in vote in his favour in TN Assembly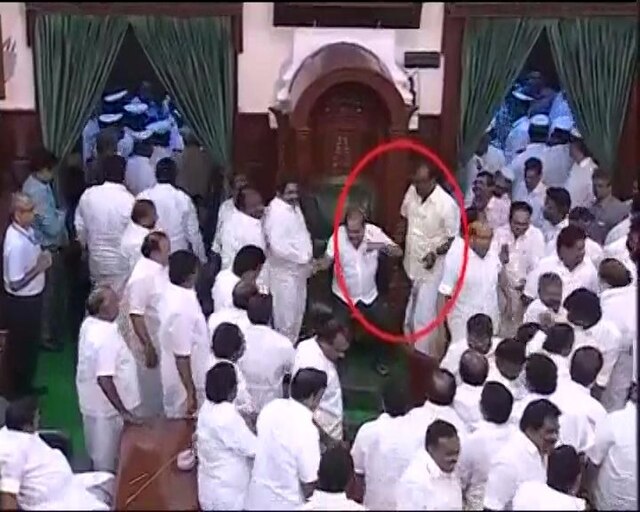 Chennai: Tamil Nadu Chief Minister Edappadi K. Palaniswami on Saturday won the vote of confidence in the state assembly.
Palaniswami, who was sworn in on Thursday as Chief Minister, won with 122 votes for the motion, while 11 votes were cast against the confidence vote by the rival AIADMK camp led by former Chief Minister O. Panneerselvam.
Palaniswami belongs to the AIADMK faction led by party General Secretary V.K. Sasikala.
The end came tamely after DMK's 88 members, who were present were ordered to be evicted by Speaker P. Dhanapal after they indulged in ruckus.
After that Congress legislators walked out in protest, dashing the hopes of Panneerselvam.
The AIADMK camp led by Sasikala were obviously happy and distributed sweets.
"The traitors were defeated," A. Navaneethakrishnan, part of Sasikala camp told reporters here.
LATEST UPDATES:


AIADMK MLAs visit #Jayalalithaa memorial after Palanisamy wins floor test in Tamil Nadu Assembly


Palaniswami successfully clears #floortest, wins trust vote - 122 MLAs in Tamil Nadu Assembly vote in his favour. He will continue to stay as Chief Minister


Floor test begins in Tamil Nadu assembly


We are going to meet the Governor to apprise him of the situation here: MK Stalin




DMK MLAs to meet Governor


Pannerselvam says "Floortest must be done after hearing people's voice" also seeks a secret ballot for voting




Floortest should be done on another day. Why the hurry when the Governor has given 15 days time says MK Stalin, DMK




DMK raises slogans in Tamil Nadu assembly supporting O Panneerselvam




BV Acharya seeks secret ballot, says "I strongly appeal speaker should permit secret ballot. To some extent, MLAs will be free to exercise their franchise"




O Panneerselvam leaves for the Secretariat from his residence




Congress to vote against the confidence motion in Tamil Nadu assembly's special session today




OPS supporters protesting, taken into custody from various places




"AIADMK is ruled by a family now" alleges the escaped MLA of Kovai Arun Kumar




Leader of Opposition MK Stalin too reaches Secretariat. Karunanidhi not to attend the Tamil Nadu Assembly session




MLAs to reach shortly. Congress meet underway to decide what to do




Heavy Police deployment at Marina stretch till Secretariat. No protests allowed.


In the morning, soon after the assembly began, Palaniswami moved the confidence motion, which was followed by heated arguments started by DMK supremo and Leader of Opposition M.K. Stalin urging Speaker Dhanapal to allow secret ballot.
The Speaker, who belongs to the faction of AIADMK General Secretary V.K. Sasikala, stood his ground and said that legislators could not interfere with his powers.
He also questioned the need for urgency in seeking a confidence vote when Governor C. Vidyasagar Rao had given 15 days time to Palaniswami.
As the AIADMK lawmakers supporting Chief Minister Palaniswami remained silent, the DMK legislators surrounded Dhanapal shouting slogans.
They tore the assembly agenda papers and some flung the mikes and chairs.
When the marshals tried to escort Dhanapal out, DMK members pulled him back to his chair. One DMK MLA sat on the Speaker's chair in protest.
Dhanapal first adjourned the House till 1 p.m. and later till 3 p.m.
Former Chief Minister Panneerselvam also demanded secret ballot.
Everything seemed to be in favour of Panneerselvam and Chief Minister Palaniswami was seen to be doing a tightrope walk till Saturday morning.
Ahead of the vote, Palaniswami's AIADMK faction suffered two jolts when Arun Kumar, a legislator from Coimbatore North, jumped ship, and AIADMK legislator representing Mylapore constituency and former Director General of Police (DGP) R. Nataraj said he would vote against Palaniswami.
But the situation changed course in the assembly with the DMK indulging in ruckus forcing the Speaker to throw them out.
Speaking to reporters here after he and his party legislators were evicted from the assembly, Stalin said the party had demanded secret ballot to decide on the motion of confidence.
He said the party demanded adjournment of the house for a week so that legislators can go back to their constituencies and seek the people's views before they come back to vote on the confidence motion.
The DMK leader said he sat in protest inside the assembly to press his demand.
Stalin alleged he was forcibly evicted by the marshals and his shirt was damaged.
The AIADMK led by General Secretary Sasikala had the support of 123 legislators, including the Speaker, while the breakaway group led by Panneerselvam has 11 legislators.
The opposition includes the DMK with 89 members, Congress (eight) and Indian Union Muslim League (one), while one seat is vacant.
The DMK, Congress and IUML had said they will vote against the Palaniswami government.
The assembly has a total strength of 234, with one seat vacant.