TN BJP Chief visits auto driver who was assaulted by BJP worker in her presence
On Twitter, Tamil Nadu BJP Chief Tamilisai Soundararajan shared photographs saying "friendly visit to house of Auto driver kathir today who wanted to speak to me. he himself acknowledged that no one hurted him. Request media friends to ignore false propoganda."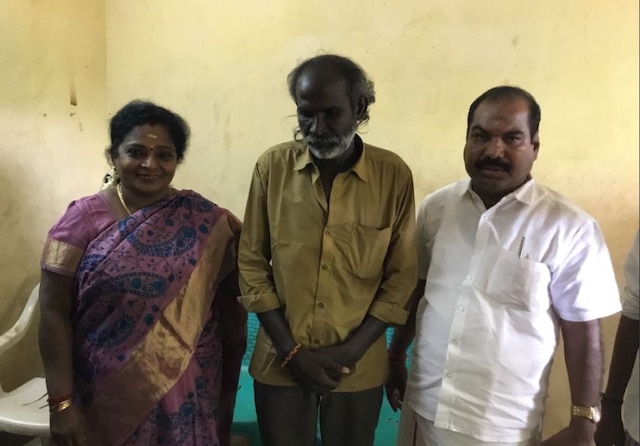 Saidapet(Chennai)
:  A day after it was reported that an autorickshaw driver was manhandled by BJP leader V Kalidass when he tried to ask a question regarding fuel price to Tamil Nadu BJP Chief Tamilisai Soundararajan, the Tamil Nadu BJP Chief visited the auto driver and distributed him sweets.
On Twitter, Soundararajan shared photographs saying "friendly visit to house of Auto driver kathir today who wanted to speak to me. he himself acknowledged that no one hurted him. Request media friends to ignore false propoganda."
Earlier on the matter, Soundararajan was quoted saying to news agency ANI "it was my co-worker who pushed him aside as he (auto driver) was under influence of alcohol."


"But it was projected as if I was smiling. If it happened it's wrong, but he was removed because people around me were concerned about others' safety too" she said.

The BJP leader on Tuesday uploaded a video of her visit to the house of Kathir on Twitter in which she is seen having a casual interaction with him enquiring about his well-being and offering sweets to his family members. Soundararjan, who was accompanied by her aides, also shared a couple of pictures she shot on the occasion.

In a video that went viral on Monday, BJP leader V Kalidass was seen pushing and hitting an autorickshaw driver, while the party chief is listening to a question raised by a media persons. The autorickshaw driver was forced backwards and removed from the scene.

The TN BJP Chief says that she did not notice what was happening behind her.

It is to be noted that the prices of petrol are soaring in the country. In Tamil Nadu, petrol is being sold at Rs 85.15 per litre, one of the highest in the country.




தெருக்கூத்து நிகழ்ச்சியில் கேள்வி கேட்ட ஆட்டோ ஓட்டுநர் சகோதரர் கதிர் அவர்களின் இல்லத்திற்கு சென்று அவருடன் உரையாடியபோது. pic.twitter.com/CyBge0KUWu


— Dr Tamilisai Soundararajan (@DrTamilisaiBJP) September 18, 2018