Tamil Nadu: 11 killed in police action in anti-Sterlite protest, CM orders probe
About 20,000 people took out a procession towards the district collectorate and the copper plant with the intention of picketing them, demanding for its permanent closure: Govt statement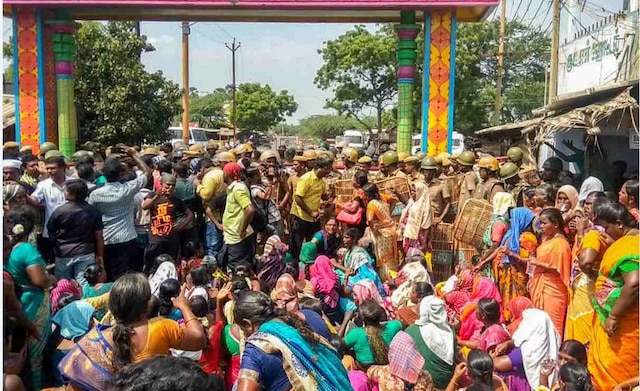 New Delhi
: Eleven people were killed in police action as the month-long anti-Sterlite protest in Tuticorin took a violent turn on Tuesday.
CM Palaniswami ordered a judicial inquiry into the violence and police action that led to the loss of lives.

Governor of Tamil Nadu Banwarilal Purohit condoled the death of the people. In a statement he said: "My heart is filled with grief on knowing about the loss of lives of eleven persons in Tuticorin district today. My condolences to each one of the bereaved families. At this critical hour, I appeal to all sections of society to be calm and help in maintaining the peace in the state."

Hours ago the death toll stood at 9.




Nine people killed in police action at #Tuticorin, says Tamil Nadu Chief Minister K Palaniswami: PTI


— ABP News (@abpnewstv) May 22, 2018



The government assured that it will take action respecting people's feelings on the plant and has appealed to all for maintaining calm.

Earlier reports of one death and over 20 casualties in the violence  had surfaced.

Later PTI quoted a government statement that said: "Police action, including baton charge and firing, which left one dead amid unconfirmed reports that the toll was far more, was done under "unavoidable circumstances", a government statement said.

Now the death toll has reportedly reached nine.

Congress President Rahul Gandhi has condemned the violence in a tweet and has called it a state sponsored terrorism.




The gunning down by the police of 9 people in the #SterliteProtest in Tamil Nadu, is a brutal example of state sponsored terrorism. These citizens were murdered for protesting against injustice. My thoughts & prayers are with the families of these martyrs and the injured.


— Rahul Gandhi (@RahulGandhi) May 22, 2018



What happened at Tuticorin: 

As per a government statement quoted by PTI, about 20,000 people took out a procession towards the district collectorate and the copper plant with the intention of picketing them, demanding for its permanent closure, and resorted to violence"

"The mob resorted to violence, set on fire police vehicles and those parked at the collectorate and pelted stones at the collector's office", the statement said.

"To bring the violence under control, under unavoidable circumstances, police had to take action. To maintain law and order additional police personnel have been sent to Tuticorin," the statement said.

It, however, did not explicitly mention what the police action was - firing or baton charge, as police allegedly resorted to both.

The government underlining its pro-people commitment in the Sterlite issue, assured them further legal action would be taken, "respecting" their feelings

The months-long protest demanding closure of Vedanta's Sterlite Copper unit took a violent turn today with agitators pelting stones and toppling police vehicles after they were prevented from marching towards the plant.

Several shops in this town, Srivaikundam and Oddapidaram remained shut in support of the protest, police said.

"The Tamil Nadu government requests the people to accept this (assurance) and maintain peace," the statement said.

Tracing the history of Sterlite Industries India Ltd, a Vedanta Group unit, it said the plant was in operation in Meelavitan in Tuticorin for the past 20 years.

Following a gas leak in March 2013 in the plant, the then chief minister, the late J Jayalalithaa, ordered its closure, following which the company moved the National Green Tribunal against the state government, it recalled.

With the tribunal overturning the Government Order, the state moved the Supreme Court against it, and the petition was now pending there, it added.

The government recalled the Tamil Nadu Pollution Control Board (TNPCB) earlier this year rejecting Sterlite's application, seeking renewal of consent to operate the plant for non-fulfilment of green norms.

These included issues relating to disposal of copper waste and effluents, it said.

The company later moved an Appellate Authority against this and the next hearing is slated for June 6, it said, adding, the TNPCB counsel had strongly argued against operations in the plant.

The government said it was committed in respecting people's aspirations and was working in sync with that.

(With PTI inputs)