Tata Power Solar's Noamundi project to reduce CO2 emission by 3000 tonnes p.a.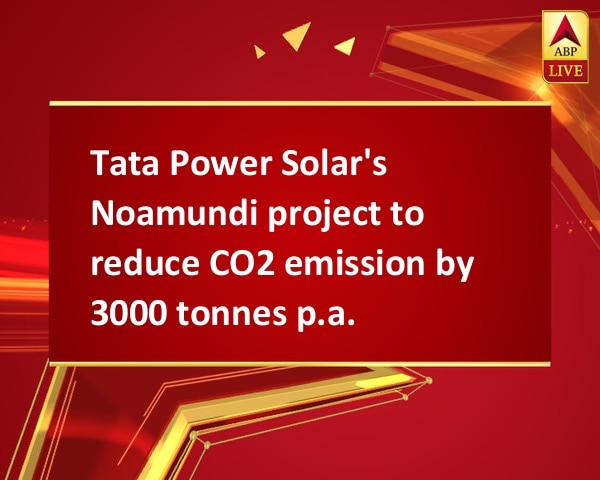 By:

ANI
Updated:
11 Jul 2017 11:40 AM
New Delhi [India], July 11 (ANI): Tata Power Solar on Monday commissioned a new 3MW Solar PV Power Plant in Noamundi, Jharkhand, and aims to reduce CO2 emission by about 3000 tonnes per annum.
Set up at a cost of Rs. 35 crore, the initiative is aimed at addressing climate change issues and other demands on natural resources for the company`s captive use around its mining locations.
"We have constantly looked at opportunities to exploit renewable energy sources. This is yet another milestone in our quest to become a sustainability driven company, committed to exploring clean energy solutions. Renewable energy is the best way of mitigating the impact of climate change," said T V Narendran, Managing Director, Tata Steel India and SEA.
Synergy between three Tata companies, namely, Tata Steel, Tata Power Solar and Tata Power Trading Company was instrumental in shaping the project into reality. With Tata Steel as the sole buyer of all electricity at a contracted tariff, this partnership demonstrates Tata Steel`s commitment to climate action and voice support for supporting a strong outcome at the United Nations Climate Change Conference Paris 2015 (COP 21).
"This project epitomises new technologies for a sustainable and continuous power requirements and such plants demonstrate how energy needs of the manufacturing sector can be met through clean and renewable sources like solar and has the potential to take usage of solar energy to a new heights," said Ashish Khanna, Executive Director and CEO., Tata Power Solar.
"Such Hybrid Solar Power Plant would help in providing reliable and consistent power supply to the industry. Moreover, it helps in contributing towards Tata Power Group vision of increasing footprints in the renewable sector," added Sanjeev Mehra, Managing Director, Tata Power Trading Company.
Solar modules convert the solar radiation into electricity which is converted through inverters to AC power at suitable voltage and then fed to the utility grid with net metering facility for accounting of the solar electricity. In case of complete outage of grid, the solar plant has the capability to synchronise with existing DG bus at processing plant Noamundi and continue operation.
The plant covers 19 acres of land at an elevated reclaimed mining hill with ample undulations and a very rocky terrain. Solar lights have been used for boundary and area lighting around the solar plant. The selected site has a potential of 4.5 MW solar power generation.
A rain water harvesting system has been set-up to collect all surface run-off from rains and module cleaning activities to serve as make-up water and minimise module cleaning water requirement. Horticulture has been planned under the solar panels that will add to the aesthetic value and will reduce cleaning water requirement by binding the loose top soil. (ANI)
This story has not been edited. It has been published as provided by ANI