TDP demands strict action against Reddy for 'provocative' remarks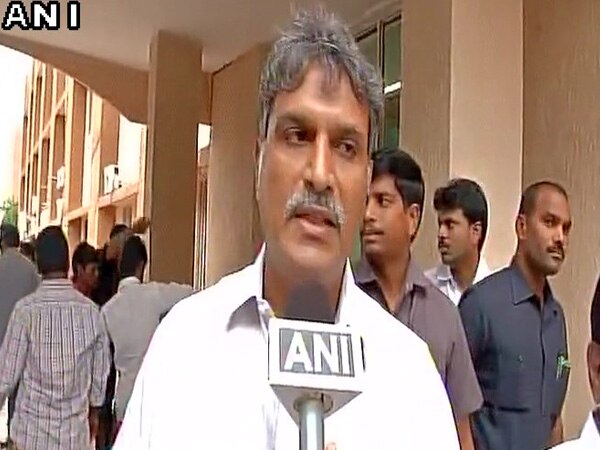 By:

ANI
Updated:
20 Aug 2017 10:55 PM
Hyderabad (Telangana) [India], August 20 (ANI): The Telugu Desam Party (TDP) on Sunday slammed the YSR Congress Party (YSRCP) chief Jagan Mohan Reddy's provoking statements against Andhra Pradesh Chief Minister N. Chandrababu Naidu.
In a meeting with Chief Electoral Officer Bhanwar Lal, TDP MPs Konakalla Narayan Rao and S. Kesineni Nani said that the YSRCP leader Y.S. Jaganmohan Reddy's earlier statement that "it won't be wrong if he is gunned down on the streets" was provocative, and has again made a stinging statement saying that Naidu "should be hanged."
In a press conference, they said, "We have asked the Election Commission to take an action against Y.S. Reddy and also the media houses that are publicising this," adding that they have also demanded for the "arrest" of the MLAs who challenged the police officers.
As the political gauge is shooting up with each passing day for the upcoming by-elections in Andhra Pradesh, Naidu on Saturday also lashed out at Reddy over his statement.
Naidu said that he has been working hard for the state and certainly doesn't deserve to be "shot, hanged or ripped off."
Speaking at a campaign in Kurnool district's Nandyal, Naidu said, "We already know that victory is ours. The Telugu Desam Party (TDP) stands for development and welfare of minorities is our agenda. I am working hard for the state and its people. Do you want me to be shot, hanged, to be ripped off? I have been striving hard to develop the state after the bifurcation and will do my best in it."
Meanwhile, Reddy is also campaigning in Nandyal for the upcoming by-elections.
Naidu resumed his second-day campaign on Sunday in the Kurnool district and visited Gospadu and Nandyal mandal to seek voters' support for the TDP candidate.
The by-elections will take place on Wednesday and the interim period would be utilised by both the parties to pump in maximum amount of money to buy votes. (ANI)
This story has not been edited. It has been published as provided by ANI