Tharoor faces flak from BJP leaders for "everyone is naked" jibe at UP CM Yogi's holy dip in Sangam
Reacting to Tharoor's comment, UP minister Siddharth Nath Singh said, "You people have committed a lot of misdeeds, take a holy dip in Kumbh and you might be able to repent for your sins."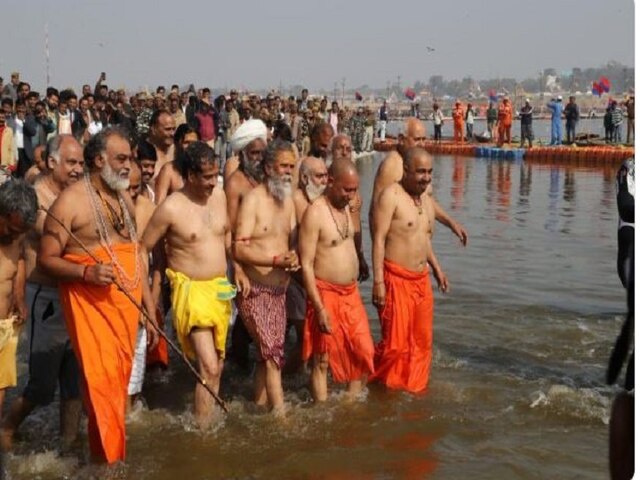 New Delhi
: Congress leader Shashi Tharoor fuelled controversy on Tuesday after he took a jibe at Uttar Pradesh CM Yogi Adityanath and his cabinet, on their holy dip in Sangam at Kumbh Mela in Prayagaraj.
In a sarcastic tweet, Congress MP had said: "everyone is naked in this Sangam", with a picture of Yogi Adityanath and his cabinet taking a dip.
In an apparent reference to government's 'Namami Gange programme' for cleaning Ganga, Tharoor wrote: "The Ganga has to be clean and the sin is also to be washed. Everyone is naked in this Sangam." In his words: "Ganga bhi swachh rakhne hai aur paap bhi yahin dhone hain. Iss Sangam me sabhi nange hain! Jai Ganga Maiya."


Tharoor has come under fire from BJP leaders after his remark.

Reacting to Tharoor's comment, UP minister Siddharth Nath Singh said: "How will he understand importance of Kumbh? Atmosphere he's in, culture he has been brought up in, doesn't understand this. You people have committed a lot of misdeeds, take a holy dip in Kumbh and you might be able to repent for your sins."

BJP leader Nalin Kohli said: "This is very unfortunate. An extremely educated and respected person like Tharoor always comes up with such kind of comments related to practices of the Hindu religion"




गंगा भी स्वच्छ रखनी है और पाप भी यहीं धोने हैं। इस संगम में सब नंगे हैं!
जय गंगा मैया की! pic.twitter.com/qAmHThAJjD


— Shashi Tharoor (@ShashiTharoor) January 29, 2019



UP CM Yogi and his entire cabinet took a dip in the holy confluence of three rivers Ganga, Yamuna and Saraswati, in the ongoing Kumbh Mela, after holding a cabinet meeting in Allahabad.

After the Cabinet meeting, the chief minister along with his ministerial colleagues Satish Mahana, Brijesh Pathak, Surya Pratap Shahi and Ramapati Shastri among others, performed a 'puja' and took the dip in the Sangam. Many seers too took the dip along with ministers.

Tharoor's comment comes at a time when talks are rife about Priyanka Gandhi beginning her political shift with a holy dip in the Sangam.

UP minister and Suheldev Bharatiya Samaj Party chief Om Prakash Rajbhar also took a dig at his cabinet colleagues for taking a dip in the Sangam, saying they had gone there to wash off their sins