TN MLAs salary hike an "illegal inducement" by Palaniswami: DMK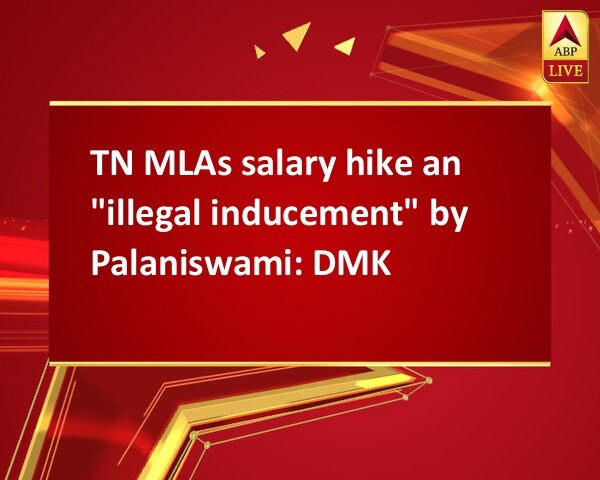 By:

ANI
Updated:
20 Jul 2017 07:20 AM
Chennai (Tamil Nadu) [India], July 20 (ANI): After Chief Minister Edappadi K Palaniswami announced a 100 per cent salary hike for Tamil Nadu MLAs, the Dravida Munnetra Kazhagam (DMK) on Thursday called it an "illegal inducement" which smacks of arbitrariness.
Speaking to ANI, DMK leader A. Saravanan said it is very "insensitive" of the Government to do such a thing when the farmers are protesting for their loans to be waived off.
"They have alienated the entire country and the entire state by this move which smacks of arbitrariness. I would also call it illegal inducement if you look at the timing of the salary hike....it is an inducement given by the Chief Minister so that the MLAs would remain with him," he added.
"Our leader MK Stalin has raised this issue and he has clearly said that he is not welcoming this decision. When the farmers are protesting that their loans are not waived, if we look back at what has happened earlier, it is on the assurance given by the CM that the farmers withdrew their protest in Delhi which was raising a crescendo and was garnering the eyeball of the entire nation," he added.
The Tamil Nadu Government yesterday hiked the salary of its MLA from Rs. 55,000 to Rs. 1, 05,000 per month.
Chief Minister Edappadi K. Palaniswami announced the hike in salaries of the Tamil Nadu MLAs in the state assembly.
Apart from the salary hike, the pension of the MLAs has gone up from Rs. 12,000 to Rs. 20,000, while the local area development fund to develop the respective constituencies was increased from Rs. 2 crore to Rs. 2.6 crore.
Soon after the announcement, Samajwadi Party MP Naresh Agarwal demanded a pay hike for the members of Parliament as well, citing that the state MLAs are paid more than them.
"We are not begging. State MLAs get more salary than us. Why can't MPs ask for salary hikes if judges can? We have demanded what we deserve under the 7th Pay Commission," Agarwal told ANI. (ANI)
This story has not been edited. It has been published as provided by ANI