To control left-wing extremism, Amit Shah enters Naxalbari; BJP kicks-off expansion drive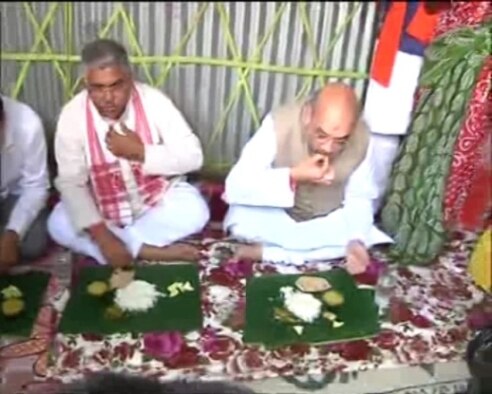 New Delhi: BJP chief Amit Shah on Tuesday kicked-off his party's expansion drive from Naxalbari, a West Bengal village from where, in the late 1960s, the left-wing extremism had started.

With an eye on the 2019 Lok Sabha polls, he will spend time here as he looks to strengthen the party in the states where it has been traditionally weak.

The Trinamool Congress-ruled state is among the five states, including Odisha and Telangana, where the BJP is weak.

Union Minister Smriti Irani announced this on Monday and on the occasion also took a dig at Congress vice president Rahul Gandhi saying, the workers of a party going through a crisis are looking for their leader while the president of another party, which has won one election after another, is not resting on his laurels and working hard to strengthen it.

This is the biggest difference between her party BJP and the Congress, Smriti Irani said and added that the saffron party's leaders believe in leading by example.

By beginning his drive from booth number 93 at Naxalbari, Shah has given a message of solidarity to BJP workers, who have "suffered" violence there, Irani said. The BJP has accused the ruling TMC of unleashing violence on its workers in the state.

In addition to Amit Shah, top party leaders, including almost every union minister, have been roped in to drive the campaign at booth-level to boost the organisation's prospects.

Kerala and Tamil Nadu are two other important states in this campaign, she said.

BJP president Amit Shah on Tuesday had lunch at the house of a tribal in Darjeeling district where he sat on the floor of Raju Mahali's house at Dakkhin Katiajote village in Naxalbari area.

He had rice, moong dal, 'potol' fry, squash curry, salad and 'papad', served on a banana leaf and BJP West Bengal unit president Dilip Ghosh accompanied Shah.