Travelogue: My majestic trip to snow-covered Auli in Uttarakhand
Trip to picturesque Auli in Uttarakhand: Know everything, from places to visit to where to stay, a complete guide.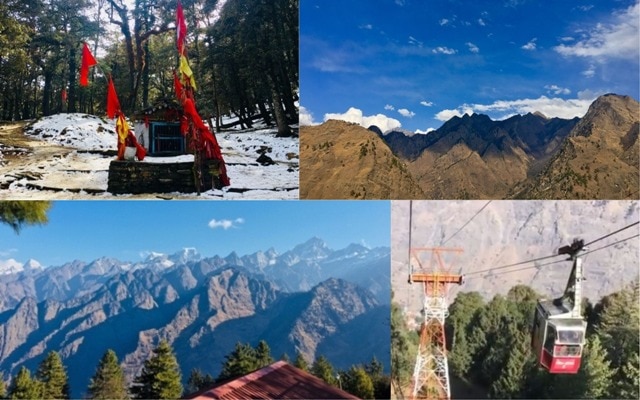 New Delhi:
When it comes to visiting places, we all like different landscapes-some like beeches other like deserts-but I'm a mountain lover and my love for snow-capped mountains refuse to die. This time, during New Year's Eve, my love for snow and snowfall crossed all limits and to witness the same, I decided to visit Auli in Chamoli district in Uttarakhand. The place is also known as India's one of the best skiing destinations.
Auli, also known as Auli Bugyal, which means "meadow", is located at an elevation of 8,200 ft (2,500 metres) to 10,010 ft (3,050 metres) above sea level.
Day-1
From Delhi, by-road, the journey for snowcovered Auli started at the stroke of midnight. After an eight hour drive, Devprayag was the town where I decided to take a halt. Devprayag is one of the Panch Prayag (five confluences) of Alaknanda River where Alaknanda and Bhagirathi rivers meet and take the name, Ganga.
Image: Anurag Kumar-ABP Live
It was a breathtaking feeling to see the sun coming out from the back of the mountains here with patches of clouds kissing the peaks.
Image: Anurag Kumar-ABP Live
Image: Anurag Kumar-ABP Live
[ALSO READ] 
Travelogue: My incredible trip to beautiful, fairyland hill station Lansdowne in Uttarakhand
After spending a night, it was time to head for Auli.
Day-2
From Devaprayag, it took almost six hours to reach Joshimath town in Chamoli district (from where Auli is just 20 km). Joshimath is a launchpad for Auli, if you don't want to go there directly or if you don't want to stay there overnight. Hotels in Joshimath are also comparatively cheaper and in abundance.
So many tourists prefer to stay in Joshimath. They enjoy their day in Auli and visit back to Joshimath in evening. (However, I preferred the otherwise)
From Joshimath, one can reach Auli in two ways-one by car/taxi or other my ropeway. The later is a much better option. Auli ropeway is a major attraction and offers a majestic view of Himalayas. Covering a distance of 4km, it is said to be longest in Asia and takes around 22 minutes to reach Auli from Joshimath.
WATCH VIDEO
By the time I checked-in in a hotel in Joshimath it was late afternoon.
After having food and a quick nap, it was time to explore the town in the evening. It's a small place so there aren't many spots to go. Market and Narasimha temple are the major ones. So the idea was to start with the market and end up in the temple. When Badrinath temple remains closed during winter every year, one idol of Lord Badri is brought to Narsinh temple and worshiped for six months.
Image: Anurag Kumar-ABP Live
Day-3
It was time to finally witness the snow. I took cable-car (rope-way) and reached Auli to celebrate my New Year's Eve.
Image: Anurag Kumar-ABP Live
Trekking in Auli is also a major attraction so how that can be missed. As I reached the place around 11 am so trekking was a good idea to witness even more snow. After a trek of 3.5 km, I was in a paradise called Gurson Bugyal. The feeling can't be converted into writing. For experiencing it, one has to be there.
Image: Anurag Kumar-ABP Live
The pupil of my eye muscles stretched to the full as it was the first time when I was experiencing the snow.
Image: ABP Live-Anurag Kumar
Image: Anurag Kumar-ABP Live
Image: Anurag Kumar-ABP Live
By the time, trekking was over, it was evening. The day was full of activity so it was a good idea to stay at the hotel and celebrate New Year.
Day-4
After spending New Year night in Auli, coming back to Joshimath was the plan. At the outskirts of Joshimath (25 km), there is a place called Tapovan, know for geothermal geysers, so how that can be missed?
Image: Anurag Kumar -ABP Live
Image: Anurag Kumar-ABP Live
While returning back from Tapovan, almighty blessed me with snowfall. Cheers!
All good things come to an end and so was it.
Next day, it was time to wrap up the trip and head back for Delhi.
Image: Anurag Kumar
Best mode of travel for Joshimath-Auli: By road
Travelling time: 15 hours (nonstop)
Days required for trip: 5-7 days
Expenditure (depends on your pocket): From Rs 25-40 thousand for couple
Safety level: 5/5
Places to visit in Joshimath-Auli: Tapovan, Narsinh temple, Gurson Bugyal
Activities: Trekking, skiing.