Trolls remind BJP how Tom Vadakkan had unsparingly vilified the saffron party & PM Modi
Tom Vaddakan said in a press conference that the Congress questioned the integrity of armed forces and that prompted him to shift to the BJP,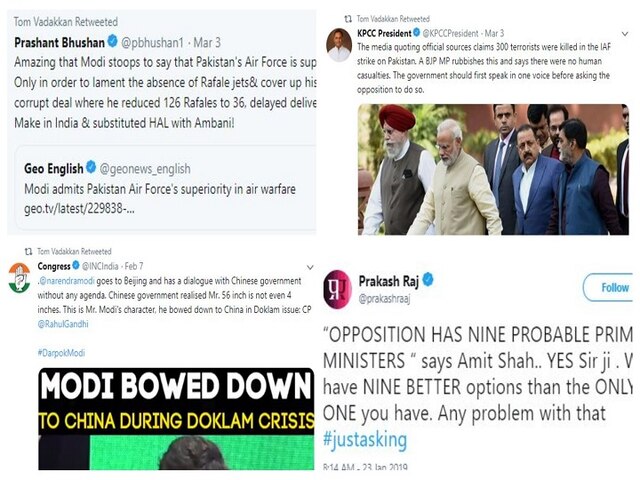 HIGHLIGHTS
Tom Vadakkan joined the saffron party in the presence of Union minister Ravi Shankar Prasad.
Vadakkan says he believes in Prime Minister Narendra Modi's development narrative.
The BJP may field Vadakkan in the Lok Sabha elections from one of the 20 seats in Kerala.
New Delhi: Tom Vadakkan may have had a sudden change of heart and flipped to the BJP on Wednesday but at the same time he's also invited trolls who are digging his old tweets as far back as their records exist.
The 61-year-old has put the Congress in an embarrassing spot which dismissed his criticism of the party saying that till now he used to "abuse" Prime Minister Narendra Modi.
Vadakkan is now being raked over the coals on Twitter for having vilified the BJP and the RSS for several years. Dozens of Twitter users are picking up his old tweets most of which he buffeted against the ruling party and Narendra Modi.
His assemblage included retweets of those raising doubts on the death toll in Balakot air strike and also of allegations that the prime minister siphoned off Rs 30,000 crore in the Rafale deal.
Vadakkan, who was once a close aide of UPA chairperson Sonia Gandhi, was inducted into the BJP today in the presence of Union minister Ravi Shankar Prasad. Vadakkan said the Congress' statements post the Pulwama terror strike had deeply hurt which apparently forced him to switch sides.
"Once you join BJP all your crimes are cleansed,"read one of his posts and has attracted the maximum attention of the Twitterati. His most recent tweet was "People of Uttar Pradesh beware of Jhoota's of the BJP MLA's & MP's multipurpose use. BJP's  Jhoota surgical strike on BJP."
Vadakkan has said he now believed the narrative of PM Narendra Modi. He hails from Kerala and is likely to be fielded by the BJP from one of the 20 Lok Sabha constituencies in the coastal state.
Let's look at his backstory: 



So who's not being truthful now? Mani Shankar Aiyar? Pravin Togadia? Or someone else? https://t.co/ebNICBbA4R


— Salil Tripathi سلیل تریپاٹھی સલિલ ત્રિપાઠી (@saliltripathi) January 21, 2019



Dangerous magician.....he can make poverty and poor disappear https://t.co/5HY8XrSr8d


— Tom Vadakkan (@TVadakkan) January 24, 2019



Rahul ji only said it was private vist. Fake news departments of certain political parties twisted it to say "Rapheal issue was discussed ".


— Tom Vadakkan (@TVadakkan) January 30, 2019



Once you join BJP all your crimes are cleansed. https://t.co/5j98dz6JQI


— Tom Vadakkan (@TVadakkan) February 4, 2019



Reasons given by #TomVadakkan for joining BJP is bunkum. Fact is politics these days are without ideology and current Cong leadership does not know how to run a tight ship. pic.twitter.com/bA5ULzJG29


— Snehesh Alex Philip (@sneheshphilip) March 14, 2019



Mr @TVadakkan should have deleted his Twitter profile first #TomVadakkan @manakgupta @rahulkanwal pic.twitter.com/a8w5OQiHfU


— It really is De Gea FC (@ujjwalingolikar) March 14, 2019



Rajdeep, Just one to start with @sumanthraman #vadakkan #tomvadakkan pic.twitter.com/AH07q5GRfd


— Varun Asok (@varunasok) March 14, 2019



Only yesterday #TomVadakkan retweeted this. Sigh, human condition! pic.twitter.com/PJ56zqo8Mi


— N.S. Madhavan این. ایس. مادھون (@NSMlive) March 14, 2019



Amazing that Modi stoops to say that Pakistan's Air Force is superior to India's! Only in order to lament the absence of Rafale jets& cover up his scandalously corrupt deal where he reduced 126 Rafales to 36, delayed delivery, scrapped Make in India & substituted HAL with Ambani! https://t.co/wIA2NMtauu


— Prashant Bhushan (@pbhushan1) March 3, 2019



PM Narendra #Modi said if #Rafale was there, the result would have been different. So it can be interpreted that PM Modi has assumed that the country under his leadership has failed to tackle #Pakistan https://t.co/KEqi1ipDJm


— National Herald (@NH_India) March 3, 2019