Twitter is going gaga over CWG gold medalist Manika Batra's tricolour nail paint
Manika Batra had her nails painted tricolor during the game.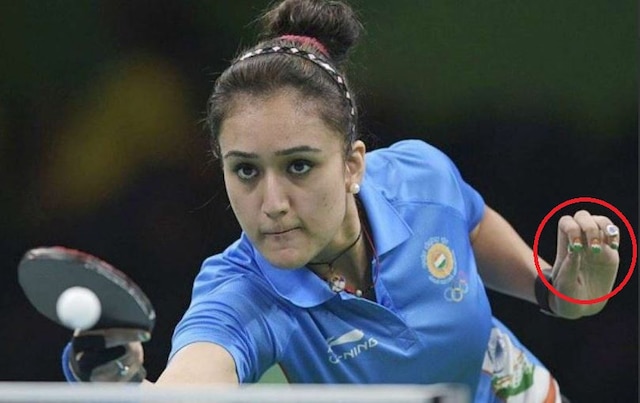 New Delhi:
On Monday, Manika Batra was again in news after winning the gold for India at the ongoing Commonwealth Games in Australia. This time it was not for her performance at the ongoing CWG but rather it was for her nail paint.


Many people called her patriotic, while others called hyper-nationalist.

Yesterday, Paddler Manika Batra inspired India to a historic gold medal with her stunning singles victories, fashioning an unthinkable 3-1 win over formidable Singapore in the final of the women's team event at the Commonwealth Games.

Here are some of the reactions -




Liberal: Heightened hypernationalism and Jingoism in Modi's India. Sheeesh that nailpaint! This is not the India I was born in. Manika Batra may have won Gold today, but lost the moral battle. pic.twitter.com/g0YW4hcCjx


— गीतिका (@ggiittiikkaa) April 8, 2018



Chee!!Manika batra applied tri colour nail paint...these sanghis will go to any extent to destroy the secular fabrintellectuchiyas through hyper nationalism - leftist intellectuchiyas


— AB (@arindambhattac9) April 8, 2018



Manika Batra Helped Indian Women's Tennis Team Win A Gold ????At #CWG First Time In History. Her Nail Paint Is A Tight Slap On Face Of Libtards, Presstitutes And #TukdeTukdeGang Who Are Ashamed To Wear Nationalism On Their Sleeves. ????????????????. #GC2018TableTennis #GC2018 #ManikaBatra


— ashutoshanand (@ashutos84049200) April 9, 2018



Manika batra a Gold medalist in table tennis ...Look her nails... Dedication toward the nation...???????????????????????????????? #RCBvKKR #IPL2018 pic.twitter.com/N11DHSmUNv


— Mr.SUYOG...! (@suyog_vj) April 8, 2018



The way "Manika Batra" played.
It was marvellous especially the last game which she won by 3-0.
What a stellar performance.
Her nail paint doesn't come under nationalism or anti nationalist.
If you can't congratulate her at least don't troll her. #GC2018 #ManikaBatra


— Amrinder (@mankabir8) April 9, 2018