Smriti Irani vs Ashok Choudhary: HRD Minister angry after being addressed as 'Dear' on Twitter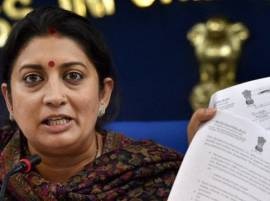 New Delhi: Union Human Resource Development Minister Smriti Irani on Tuesday engaged in a massive Twitter war with Bihar's Education Minister Ashok Choudhary, after he used the salutation 'Dear' for the HRD minister.



"Dear .@smritiirani ji, कभी राजनीति और भाषण से वक़्त मिले तो शिक्षा निति की तरफ भी ध्यान दें"


— Dr. Ashok Choudhary (@AshokChoudhaary) June 14, 2016
The tweets angered Smriti Irani so much that she replied.

@AshokChoudhaary mahilaon ko 'dear' keh ke kab se sambodhit karne lage Ashokji ?

— Smriti Z Irani (@smritiirani) June 14, 2016

It started with a small conversation between Smriti and Bihar minister over 'the new education policy' and later grew into a huge debate after a string of messages were exchanged from both the parties along with reactions of the Twitteratis.



what is harm if you write minister as "Dear".This is basic professional courtesy.why Color with 'mahila' angle https://t.co/YpcPxy51OL


— Vinod Kapri (@vinodkapri) June 14, 2016
Smriti's anger over the use of the word 'Dear' offended the Twitteratis who slammed Smriti for getting offended over the 'petty' issue.

Please note, @smritiirani prefers being called Aunty than be address as dear

— Hypocrisy Watch (@bigotry_watch) June 14, 2016