Union Minister Giriraj Singh advocates 'nasbandi' after 'notebandi' to ensure population control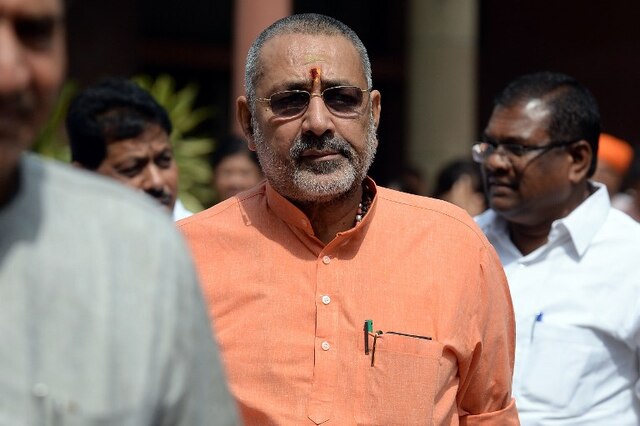 Patna: Union Minister Giriraj Singh on Sunday said after 'notebandi' (demonetisation), there is an urgent need to make laws for 'nasbandi' (sterilisation) in the country.


"Through demonetisation our Prime Minister has stopped the flow of black money and this has strengthened the nation's economy. Similarly for nation's development, we will have to bring strict laws for population control. The people of the nation should rise above everything and think for the nation," said Singh.


Singh, who is the Minister of State for Micro, Small & Medium Enterprises said all sections of society should adopt this practice to control population in the country.


Singh said India has 16 per cent of world's population and adds population equal to Australia every year. "The country is facing population explosion, it has to be controlled soon."


In October this year, Singh had said Hindus should seriously think of increasing their population in the country by producing more children.


"There is a need to increase population of Hindus in the country. They should take this issue seriously as their population has been decreasing in eight states in the country," Singh said.


He then recalled that none other than RSS chief Mohan Bhagwat had advised Hindus in August last year to produce more children and said no laws can prevent them from reproducing more children.


Singh is the BJP's Lok Sabha member from Nawada constituency in Bihar. He is known as a staunch supporter of Prime Minister Narendra Modi and champion of Hindutva politics.


Singh is the second such minister to have called for controlling the population. Last week, former union minister and senior BJP leader Sanjay Paswan had made a similar statement.


Flak:


Reprimanding Union Minister Giriraj Singh for demanding mass sterilisation in the country, the Janata Dal (United) party has urged Prime Minister Narendra Modi to prevent his Cabinet members from making such statements which could rupture the social fabric of India.


"These are just scandalous statements trying to break the social fabric of India. Even people understand this very well. Hence the responsibility falls on the BJP and Prime Minister Modi to caution such ministers from making such provocative remarks attempting to break the society," JD(U) leader Rajeev Ranjan told ANI.


Another JD-(U) member Anwar Ali said the minister's plan to conduct mass sterilisation will fall flat as similar exercise undertaken by Congress leader and former Prime Minister Indira Gandhi's son Sanjay Gandhi did not succeed as well in the late 1970s.


"We all know what happened when Sanjay Gandhi similarly preached for mass sterilisation, it fizzled out soon. Hence I am confident that it will meet the same end," Ali told ANI.
BJP's Take:
Dismissing the call made by Minister of State of Micro Small and Medium Enterprises Giriraj Singh for mass sterilisation to control population, the Bharatiya Janata Party (BJP) has said that these are his personal opinions and the party or the government has nothing to this.
"There is no doubt that the population of this country is rising. To reduce the population growth, there must be an awareness and advertisement. From NGOs to political parties and everyone should come forward to spread the cause and create awareness to control the population," BJP leader Rahul Sinha said.
Sinha said, "The party does not have any agenda nor does the government, but the government wants to control the rising population by making people understand and aware about it."