Union Minister Giriraj Singh takes a dig at Nitish over his attendance at Paswan's Iftar party
"The pictures would have come out lovely and beautiful if instead Navratri was being celebrated and fruits were being consumed why do we lag behind in our Karma Dharma and live in a farce???"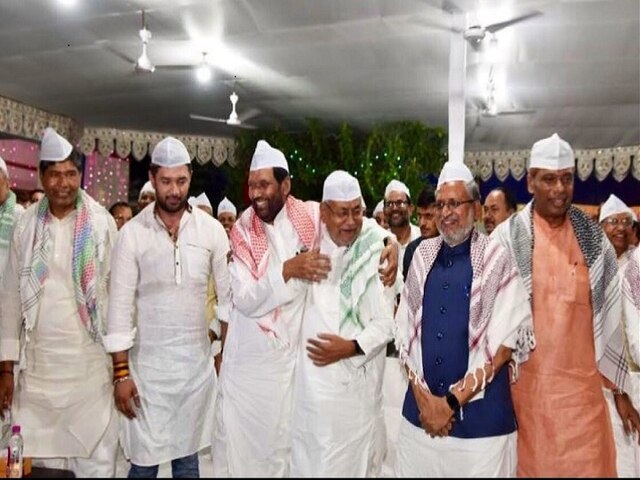 New Delhi: A day after Janta Dal United leader and Bihar Chief Minister Nitish Kumar's pictures attending Ram Vilas Paswan's and former Bihar CM Jitan Ram Manjhi's  Iftar parties made rounds on social media, Union Minister Giriraj Singh stroke controversy via his tweet on the same.
Giriraj took a dig at Nitish and accused him of living in farce.
Giriraj shared pictures where Nitish can be seen wearing a skull cap, exchanging hugs with Paswan and having his meal with Manjhi. Even Bihar Deputy Chief Sushil Modi could be seen in the pictures.


"The pictures would have come out lovely and beautiful if instead Navratri was being celebrated and fruits were being consumed why do we lag behind in our Karma Dharma and live in a farce???"






कितनी खूबसूरत तस्वीर होती जब इतनी ही चाहत से नवरात्रि पे फलाहार का आयोजन करते और सुंदर सुदंर फ़ोटो आते??...अपने कर्म धर्म मे हम पिछड़ क्यों जाते और दिखावा में आगे रहते है??? pic.twitter.com/dy7s1UgBgy


— Shandilya Giriraj Singh (@girirajsinghbjp) June 4, 2019



Commenting on Giriraj's tweet, JDU leader KC Tyagi said "We will wear caps also and even hug each other on Eid". He further reminded Giriraj of the statement made by Prime Minister Narendra Modi where he said that we have to move ahead by taking everyone along with us.

The tweet has come at a time when there are speculations over rift between BJP and Nitish after the former's party was deprived of any ministerial post in PM Modi's new cabinet.

This comes a day after RJD Chief Lalu Yadav's wife Rabri Devi on Monday told media that if Nitish wants to join hands with Grand alliance, he is welcome to do so.  "If Nitish Kumar joins the Grand Alliance again, we have no objection to it," Rabri Devi said.