Unnao Rape Victim Critical After Accident; Should Be Flown To Delhi: DCW Chief
The girl was traveling to Rae Bareli with her lawyer, her mother and her aunt. Unfortunately, her mother and aunt lost their lives in the accident.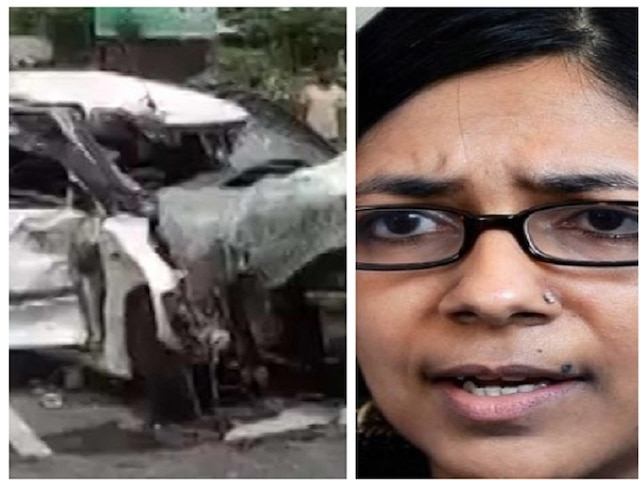 Lucknow: A day after Unnao Rape victim and mother met with a severe accident on Sunday, where the victim got severely injured and her aunts lost their lives, Uttar Pradesh police is terming the incident as "Pure accident due to over speeding truck". Speaking on the incident Uttar Pradesh DGP OP Singh said that "There was no negligence in her security and she requested the security personnel deputed for duty to not go along as there was little space in the car".  The official further said that the matter will be handed over to CBI if the girl's family demands. 
DCW Chief Swati Maliwal meets victim:
Commenting on the incident, Delhi Commission For Women Chief Swati Maliwal on Monday said that the girl's condition is critical and there are very minute chances that she would survive.  "I met the victim girl and her family and doctor said that both girl and her lawyer are critical condition and there are very minute chances that they would survive."
"They believe that they should both be soon airlifted and be flown to best hospital in Delhi and should be provided with best treatment… I am talking to the hospital, we will take care of it" she said.
She further said "No one from Yogi Government has so far gone to meet the girl. DGP is saying that it was an accident. I urge Yogi ji to come to the hospital and snatch the MLA post from accused Sengar".


She demanded that "SC should get the matter transferred to Delhi and should ensure Sengar is hung-to-death within 15 days". "If he is saved today, the whole country's Nirbhayas would be let down" she said.

Unnao Victim meets with an 'accident':

The woman from Unnao, had accused BJP MLA Kuldeep Singh Sengar of raping her in 2017. She was severely injured while her mother and aunt were killed after their car collided with a truck near Raebareli in Uttar Pradesh on Sunday. Police said the car's front portion was badly damaged due to the impact of the crash. There were four occupants in the car at the time of the accident - the rape victim, her mother, aunt, and her lawyer Mahendra Singh. Police are investigating the case while treating it as both an accident and a conspiracy to murder.

The incident took place when the victim was traveling to Raebareli. The truck driver has been arrested and is being questioned. While her mother and aunt succumbed to their injuries, the victim and her lawyer were admitted to hospital in a critical condition. The truck's number plate also bears signs of tampering in an attempt to conceal the registration number. The Unnao rape case hit the headlines in 2017 after the then 16-year-old girl alleged that she was raped by BJP MLA Sengar.






LIVE: 'UP Government to bear the expenses of the girl's treatment (Unnao rape victim)' says Lucknow ADGhttps://t.co/DklVA2kRqn


— ABP News (@ABPNews) July 29, 2019



UP DGP OP Singh on Unnao rape survivor: There was no negligence in her security. Due to lack of space in her vehicle, she requested the security personnel deputed for security not to accompany her to Raebareli yesterday. https://t.co/0ttJFnlWz6


— ANI UP (@ANINewsUP) July 29, 2019



Sengar has been in jail since the past several months while the case is being probed by the CBI. Sengar's brother has also been accused of beating up the victim's father after tying him to a tree. Her father was then arrested and later died in police custody. The victim's uncle is also in jail in a separate case. The victim and her family members were on their way to meet her uncle in jail when the collision occurred.



The case came to light after a year when the girl held a protest outside Uttar Pradesh Chief Minister Yogi Adityanath's residence demanding justice. She had also tried to immolate herself in front of Adityanath's residence in Lucknow. The case had led to protests across the country.