UP: 3 Police Constables Attached To Unnao Rape Victim Suspended
On Sunday, the car in which the Unnao rape survivor, her family and lawyer were travelling was hit by a truck in Rae Bareli, killing her two aunts and leaving her and the advocate critically injured.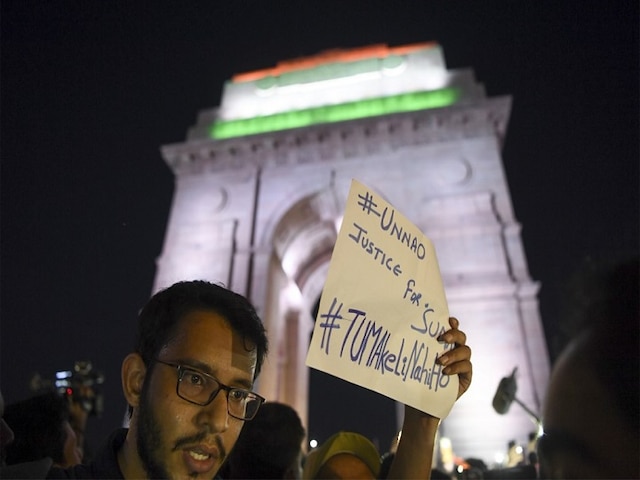 LUCKNOW
: Three security personnel assigned to the Unnao rape victim were suspended on Thursday. Suspended police personnel are constable Sudesh Patel, lady constable Sunita, Ruby Kumari. SP Unnao said that they were suspended over negligence in duties.



Three police personnel - including two women cops, appointed for the security of Unnao rape survivor, have been suspended. pic.twitter.com/VfiaCkEZxJ


— ANI UP (@ANINewsUP) August 1, 2019
Earlier today,
MLA
Kuldeep
Singh Sengar (Unnao rape accused) was expelled from
BJP amid growing demands to sack the lawmaker after the Unnao rape survivor was critically injured in a car-truck collision
.
In the case, t
he Supreme Court made clear it will transfer the rape case involving BJP legislator Kuldeep Singh Sengar out of Unnao district in Uttar Pradesh and summoned a "responsible" CBI officer before it by 12 noon to provide details of the probe conducted so far in the sensational matter.


The top court also refused a plea of Solicitor General Tushar Mehta, appearing for the CBI that the matter be adjourned to 10:30am on Friday, as the officers probing the Unnao cases were out of Delhi.

On Wednesday, the court had taken cognisance of the rape victim's letter to the CJI and had sought a report from its secretary general why it had not been brought to his notice since July 17.

On Sunday, the car in which the Unnao rape survivor, her family and lawyer were travelling was hit by a truck in Rae Bareli, killing her two aunts and leaving her and the advocate critically injured.

The CBI, which has taken over the investigation into Sunday's road accident, booked 10 people for murder, including BJP legislator Kuldeep Singh Sengar, who is already in jail, charged with the rape of the Unnao woman when she was a minor in 2017.

The UP police on Monday filed a murder case against Sengar and nine others after the rape survivor's family filed a complaint alleging conspiracy behind the accident.

WATCH: Unnao Case: Kuldeep Singh Sengar Expelled From BJP