UP : Govt. school turns into dance bar; video viral
A bar-like video of a classroom of UP's government school , with girls dancing on Bhojpuri numbers and men showering money on them, has gone viral . The party was allegedly organised by the village head to celebrate his son's birthday which apparently was on the occasion of ''Rakshabandhan''.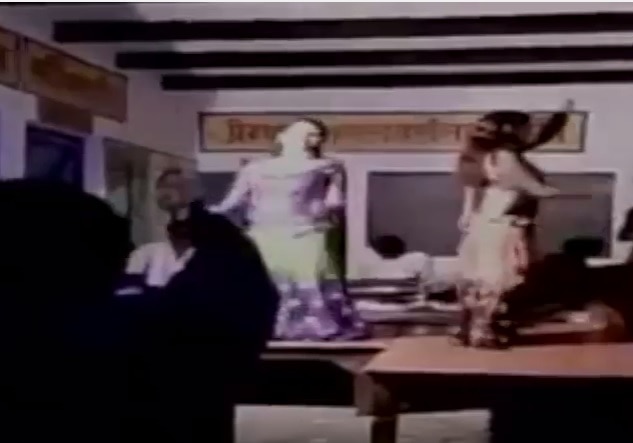 New Delhi:  In a bizarre video that has surfaced on the internet, a government school of Uttar Pradesh was turned into a dance bar to celebrate the birthday of the gram pradhan's son.

According to reports it was a government primary school in Mirzapur which was closed for three days on the occasion of Raksha Bandhan. It was this time when the party was secretly organised in one of the classrooms of the school. In the video it can be seen that girls are dancing to Bhojpuri songs on a make-shift stage while men are showering notes on them. The place with all the disco lights, dancers and musicians was barely recognisable as a classroom. However, the blackboard of the classroom can be seen in the background and quotes written on the walls can also be seen.

As reported, the principal of the school too did not have an information about the on-going party. They found out about the party after they saw the place cluttered with party leftovers, the next day. However so far any action hasn't been taken against the organisers. Teachers and students reportedly cleaned the after-party mess the very next day on Tuesday.



It is alleged that the village head borrowed the keys from the Principal during the three day vacation period and organised the party on Monday which was Rakshabandhan day.  However, the principal has denied any sort of involvement in the matter and has described the incident as ''disgraceful''.  As per the reports the local administration has sought a detailed report of the incident from the Basic Shiksha Adhikari.

Though the local administration swung into action seeking a report from the Basic Shiksha Adhikari (BSA), no action has been taken so far against the organisers.

The incident is widely being criticised for disrespecting and defiling the sanctity of an educational institution.