UP poll 2017: Preparations completed for Saturday's vote count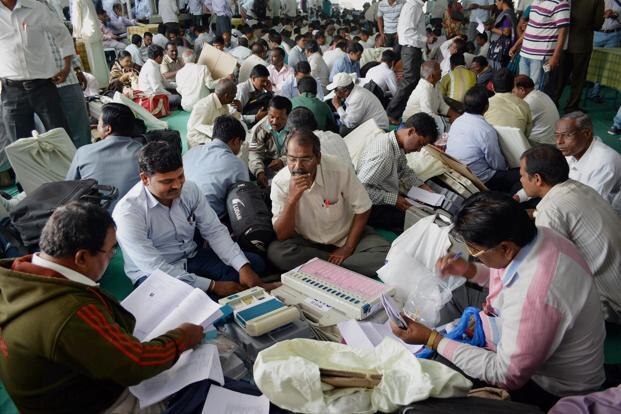 Lucknow: Preparations for the counting of votes cast in the seven rounds of the Uttar Pradesh assembly elections have been completed, an Election Commission (EC) said on Friday.

Counting of ballots for the 403

Counting of the ballots for the 403 assembly seats will begin at 8 a.m. and continue till the process is completed and the results declared.

Earlier in the day, Chief Electoral Officer T. Venkatesh interacted with all District Magistrates and district police chiefs through video conferencing to ensure the preparedness of the administrative machinery.

Venkatesh directed all District Returning Officers to ensure that all preparations are in place at all the 78 counting centres. Postal ballots will be counted first and then the electronic voting machines (EVMs) will be taken to the counting centers.

At places where the distance between the strongrooms and the counting centers is more, "sanitized corridors" will be created.



Mobile phones banned inside counting centres:

Mobile phones have been banned inside the counting centres and information about the developments will be given to journalists only at the media centres made at all counting centres.

4,853 contestants fate to be decided:

A total of 4,853 contestants tried their luck at the hustings in the 2017 state assembly elections. Of the total contestants, 4,370 were men and 482 women. This time one member of the third-gender also joined the fray -- in Lakhimpur Kheri.

In the 2012 state assembly elections, the number of candidates in the fray was 6,839, of whom 6,253 were men and 582 women. That year, four third-gender candidates had tried their luck at the hustings.

67 contestants above 70-year:

While most of the contestants in the 2017 assembly elections were young, there were 67 contestants above 70 as well. The oldest candidate to have contested was 91-year-old Jai Devi, who was in the fray in Khairagarh, Agra.

Maximum number of candidates fielded by Bahujan Samaj Party:



The maximum number of candidates -- 403 -- were fielded by the Bahujan Samaj Party (BSP) followed by the Bharatiya Janata Party (BJP) 384, Samajwadi Party (SP) 311, Congress 114, Rashtriya Lok Dal (RLD) 277, Lok Dal 81, Peace Party 68, Communist Party of India (CPI) 68 and the Communist Party of India-Marxist (CPI-M) 26.

A total of 1,462 Independents also contested the keenly fought elections this time.

Polling was held in the state in seven phases spread from February 11 to March 8.