UP: Yogi Govt Bans Use Of Loudspeakers At Temples, Mosques & Other Public Places Without Permission
Yogi govt set January 15 as the deadline to remove the amplifiers.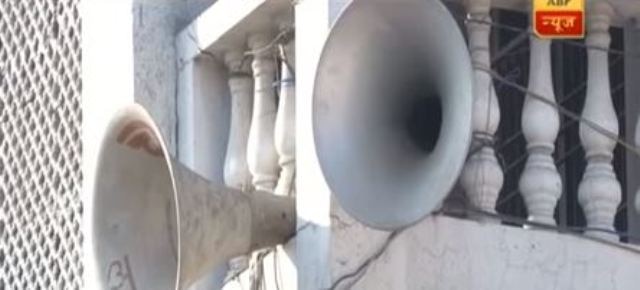 Lucknow: Armed with a high court order, the Yogi Adityanath government banned the use of
loudspeakers at temples, mosques and other public places without permission and set January 15 as the deadline to remove the amplifiers.

After receiving flak from the Allahabad High Court over noise pollution in Uttar Pradesh, the state government also issued detailed directives on the use of permanently installed loudspeakers at these places.

The high court had last month asked the state government whether the loudspeakers or public address systems at mosques, temples, churches and gurdwaras, among other places, were installed after obtaining a written permission from the authorities concerned.

Principal Secretary (Home) Arvind Kumar said, "On the directions of the court regarding ensuring implementation of noise pollution control rules, a government order giving detailed instructions has been issued."

This practically implies that sound should not go beyond the periphery of the public or private place, Kumar said.


The 10-page-order has directed a survey of permanently installed loudspeakers and issuance of show cause notice to those using them without requisite permission.

If the permission to install loudspeakers at religious or public places was not sought before January 15, the government would start removing these from January 20. After that, action will be initiated under noise pollution control laws.

A format for applying for permission, issuance of permission and action against those who neither apply for permission nor comply with terms and conditions of permission has also been issued.

It also requires the district magistrates to categorise areas into industrial, commercial, residential and silence zones. Each area has separate maximum limits for permissible sound levels.

The loudspeakers installed in public places cannot have a sound level more than 10 decibels above the ambient noise level at the periphery of a public place and 5 decibels above the ambient noise level at the periphery of a private place, Kumar said.

The Lucknow bench of the high court had on December 20 sought to know as to what action has been taken against such unauthorised installations and also against the officers who failed to ensure mandatory requirement of obtaining written permission in their area.

It directed the principal secretary (home) and the chairman of the UP Pollution Control Board to file their personal affidavits along with the information sought on February 1.