Uttar Pradesh elections: Akhilesh, Rahul hold their second roadshow in Agra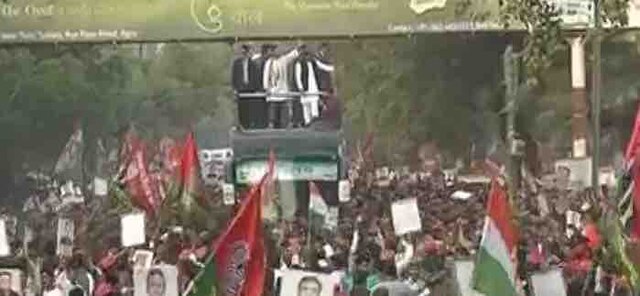 New Delhi: Uttar Pradesh CM Akhilesh Yadav and Rahul Gandhi held a road show Friday. The road show which started on Friday afternoon, ended in the evening, with Rahul Gandhi praising Samajwadi Chief Akhilesh Yadav and saying, " Akhilesh has changed the whole of UP". 
The Agra event is second roadshow of the two leaders in the politically crucial state which will see a seven-phase election for its 403 Assembly seats starting February 11.
(Pictures/ABP News)
The two leaders will be addressing a rally in the city later.
Taking a jibe at Prime Minister Narendra Modi's demonetisation drive where people were standing in long queues outside bank ATMs, Akhilesh on Friday said the voters in the upcoming state election will stand in the line to oust the Bharatiya Janata Party(BJP).
"We have seen all kind of days but haven't seen 'achey din'. They promised us 'acche din' and fooled us but now people will stand in queues to defeat BJP,' he said while addressing a rally earlier during the day.
Akhilesh also took potshots at the BJP for making promise of providing Rs. 15 lakhs.
"Now, nobody is left with currency of Rs. 1000 and Rs. 500 denomination. Now you (Modi Government) have all the money and at least give Rs. 15,000 to people instead of 15 lakhs," he added.
Earlier on January 29, Congress vice-president Rahul Gandhi and Akhilesh in their maiden outing in Lucknow shared tight hugs and warm handshake besides donning same coloured jackets.
Gandhi dominated the interaction comparing the alliance between the Samajwadi Party and Congress with the confluence of the rivers of Ganga and Yamuna that join at 'sangam' to form the river Saraswati.