Uttar Pradesh: SC directs Yogi government to fill up vacancies of 3,000 sub-inspectors, 30,000 constables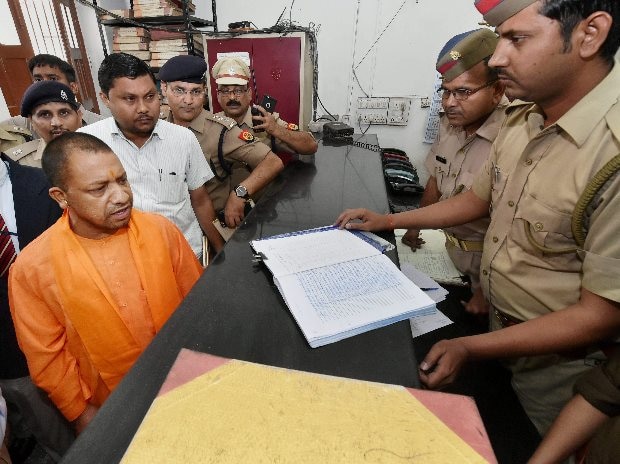 New Delhi: In a move which will definitely strengthen police force in the state of Uttar Pradesh, the Supreme Court has on Monday directed state government to fill up the vacancies of 3,000 sub-inspectors and 30,000 constables.

Since the new BJP state government under Yogi Adityanath has come to power a lot of changes are taking place in the most populous state of the country.

Now with the apex court direction coming, it will be interesting to see how soon the state government will act on this. Definitely the order by the SC will give some boost to those who are waiting to apply in the police force of the state.

Meanwhile, in a big move, in Uttar Pradesh, the Yogi Adityanath government is gearing up to replicate Prime Minister Narendra Modi's home state 'Gujarat Model' to curb rampant power theft in the state.

The state government has signed the 'Power to All' document with the Centre to provide 24X7 electricity supply to all households.

Aggregate technical and commercial (AT&C) losses are to the tune of almost 40 percent in the state. It includes power theft and pilferages.

This, in turn, indicates the high level of uneconomical power utilisation and subsequent financial losses to the power distribution companies (discoms) in the state.

To curb power theft, under stringent Gujarat Model, special police stations and vigilance squads would be set up across the Uttar Pradesh.

Such specialised police stations function at Surat, Vadodara, Sabarmati, Rajkot and Bhavnagar to weed out power thieves and pilferers in Gujarat.

Reportedly, at present, about 15,000 megawatt (mw) is the peak load power demand of UP and this goes up to 18,000-19,000 MW during the summer months of May and June.

Interestingly, within two years, when the 'Power to All' would be fully implemented in the state, the total power demand is expected to hover around 22,000 MW.

According to Central Electricity Authority (CEA) data, 71 percent UP households in rural and 19 percent in urban areas are devoid of electricity connection and at the same time, about 6.3 million consumers derive power through 'katiya' (illegal) connection and are unbilled.

The aim of providing 'Power to All' by October 2018 would need new power connections to 20 million additional households in the state.

UP energy minister Shrikant Sharma has reiterated Yogi government's resolve to strictly deal with power theft without fear or favour and department is gearing up to launch an intensive drive to identify illegal power connections,

The department will also provide new connections to households, strengthen transmission and distribution network to economise on energy, Minister added.

It may be recalled that in run up to 2017 UP poll, 'Power to All' was a flagship pre-poll promise made by the Bharatiya Janata Party (BJP).