VHP targets PM Modi over remarks against 'Gau Rakshaks'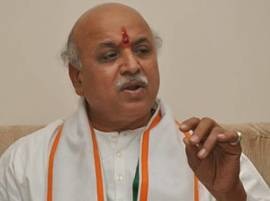 New Delhi: VHP leader Praveen Togadia on Saturday attacked Prime Minister Narendra Modi for his comments against cow vigilantes and said the government should have instead talked to them.

"It is agonizing that despite knowing the story of butchering of cows and cow progeny, rather than making efforts to protect cows, which is revered mother to all Hindus, the head of the nation has put cow protectors' lives in danger at the hands of cow butchers," Togadia told the media.

He said the central government should have initiated a "meaningful dialogue" with organisations and people engaged in cow protection.

"The basic issue is to save cows... You are ready to talk with an enemy like Pakistan, you are ready to talk to Kashmiris who attack police and the army, but you do not want to talk to those who are protecting cows," Togadia said.

"The laws to protect cows are not effectively implemented by state governments. So Hindus had to take to the streets to protect cows. You must at least talk to them.

"If you ask, I can gather every person involved in this work (cow protection) from every tehsil.

"You (prime minister) and Hindus of this country could have ensured that no cow is killed," he said.

"When the head of the nation is saying that 80 percent cow protectors are fake, the VHP requests the Prime Minister to disclose the basis of the data he used to demean cow protecting Hindus," Togadia said.