Vijay Mallya, declared absconder in India, seen watching India-Pakistan match at Edgbaston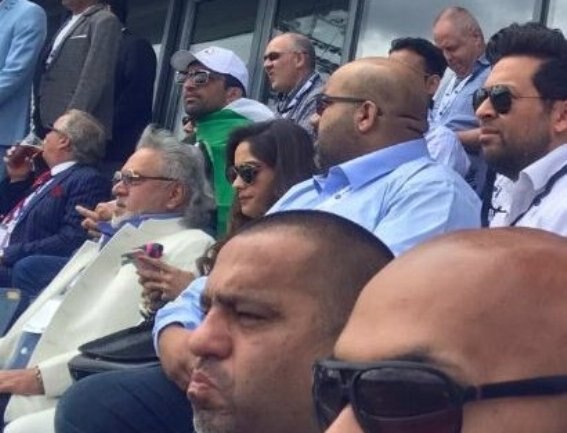 NEW DELHI: Beleaguered businessman Vijay Mallya, a declared absconder, was seen watching India-Pakistan cricket match at the Edgbaston Cricket Ground in Birmingham on Sunday.
Mallya, who owes around Rs 9,000 crore to a consortium of banks and fled from the country in March last year, was watching the marquee clash from the VIP box of the stadium.
The 61-year-old liquor baron, who is currently in the United Kingdom, was declared "absconder" by a Mumbai court.
Unpaid loans of over Rs 9,000 crore by his now defunct Kingfisher airlines made him flee to the UK on March 2 last year. He has been defying court orders even as as the Supreme Court ordered him to appear before it in person with his passport on March 30, 2016.
A formal extradition request by India was handed over to the British government to bring back Mallya under the India-UK extradition treaty. The Brits have India in category 2 countries which means the process will be longer.
In January this year, a non-bailable warrant issued by CBI court against the beleaguered businessman in the Rs 720-crore IDBI Bank loan default case.
The consortium of banks led by State Bank of India included Bank of Baroda, State Bank of Mysore, Axis Bank, Corporation Bank, Federal Bank, Indian Overseas Bank, Jammu and Kashmir Bank, IDBI Bank, Punjab National Bank, Punjab and Sind Bank, UCO Bank and United Bank of India.
He was arrested in London on April 18 briefly and bailed out by court.
The Indian government had in February this year, handed over to British authorities a formal request for Mallya's extradition, saying it had a legitimate case against him on charges of financial irregularities and loan default.