Viral Sach: Did gau rakshaks thrash foreign tourists at Goa beach for pushing away stray cow?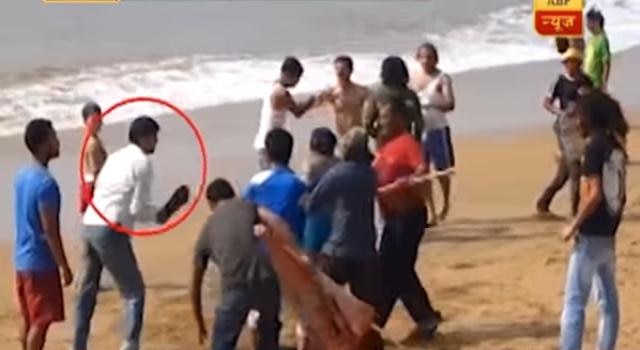 New Delhi: A video is going viral on social media in which foreign tourists (a male and a female) can be seen getting beaten up by allegedly by gau rakshaks at a beach in Goa, after they pushed a stray cow.

They can be seen beaten up with slippers.

In the video, one can also see a cow moving nearby. The video is claimed to be of Baga beach and it is also being said that gau rakshaks beat female for pushing cow away from her.

A message is also getting viral with the video "This video has gone viral. It was shot by a foreign tourist on a Goa Beach. A foreign lady tourist tried to move the *COW* away from her. For this reason, she and her family members were mercilessly beaten up. Cow vigilants of the BJP making India shining? "Incredible India for Cows"!

But is this a true video?

Fact check: This video was uploaded on YouTube in the year 2012 (5 years ago)

The video was certainly shot in Goa but it is old and the reason that the foreign tourists were beaten was after a fight broke out between a restaurant owner and them over using restaurant benches without paying money for the same. In Goa, normally one has to order some food or drinks to use such benches placed outside the restaurants.