Viral Sach: Why Sridevi's body was draped in national tricolor and given state honour?
Sridevi was cremated at the Vile Parle crematorium in Mumbai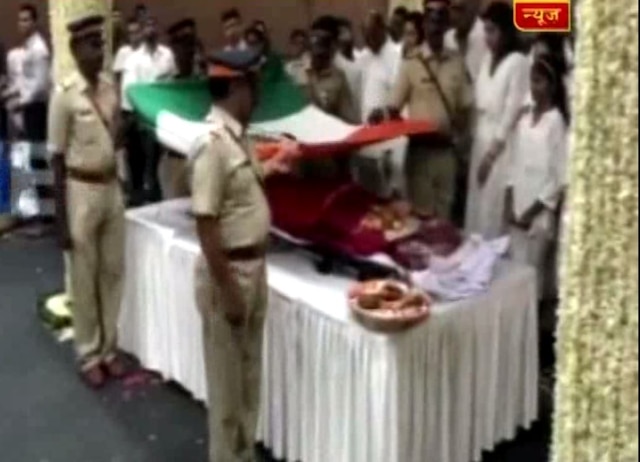 NEW DELHI:
After the untimely death of Sridevi in Dubai late Saturday which sent shock-waves through India, posts on social media started circulating regarding the last rites.
Sridevi was draped in the Tricolour and was cremated with full state honours at the Vile Parle crematorium in Mumbai. Many on social media asked why was late actress Sridevi given state honour.



With absolute respect & reverence to #Sridevi .. is her body draped in a tri-colour? If yes, is this a state funeral ? #Sridevifuneral
Just asking..i mean no disrespect or have no objection with it .


— Tehseen Poonawalla (@tehseenp) February 28, 2018
The Maharashtra government had decided to accord actress Sridevi full state honours at her funeral.
The state honours for the actress, who was given Padma Shri in 2013, included draping her body in the national tricolour. Elaborate arrangements by the Mumbai Police were made where a gun salute before the cremation was also given.
The actress, 54, died in Dubai, where she had gone to attend the wedding ceremony of his nephew. It was established that the actress died of "accidental drowning" in her hotel.
Three days after the actor was found dead in her room at the Jumeirah Emirates Towers hotel, the family was finally given custody of her body on Tuesday.
To investigate the matter, ABP News started its research.
To know more watch this latest segment of Viral Sach ABP News report-