Voting dates for 5 states to be announced by Election Commission at 12 pm today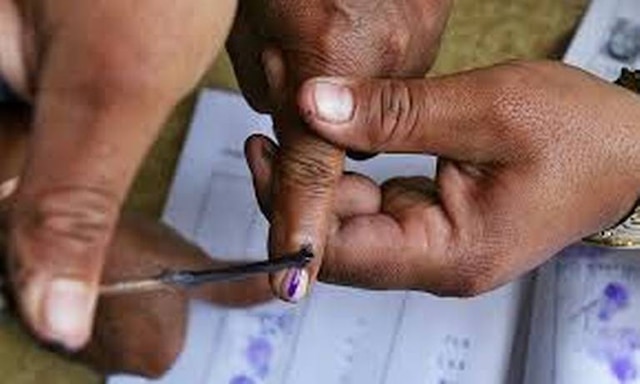 New Delhi: Announcement of assembly elections to five states namely Uttar Pradesh, Punjab, Uttarakhand, Manipur and Goa is set to be made at 12 noon on Wednesday. Election Commission on Tuesday also held a meeting with Chief Electoral Officers of these poll-bound states to make the necessary arrangements.
As of now, the Commission plans to hold seven-phased assembly polls in Uttar Pradesh and single-phased in the other states. But with situation in Manipur assuming alarming proportions, the poll body may go for multiple phases in the north-eastern state. But there is no official word on it.
Future Elections:
| | | | | |
| --- | --- | --- | --- | --- |
| S.NO. | HOUSE/STATE | FROM | TO | ASSEMBLY SEAT |
| 1. | GOA | 19.03.2012 | 18.03.2017 | 40 |
| 2. | MANIPUR | 19.03.2012 | 18.03.2017 | 60 |
| 3. | PUNJAB | 19.03.2012 | 18.03.2017 | 117 |
| 4. | UTTRAKHAND | 27.03.2012 | 26.03.2017 | 70 |
| 5. | UTTAR PRADESH | 28.05.2012 | 27.05.2017 | 403 |
The Main Focus of Meeting: 


Deployment of personnel on duty at polls


law and order assessment


strict implementation of model code of conduct


safety of electronic voting machines


In its report to the EC, the Union Home Ministry has conveyed that ground situation in Manipur following the blockade of National Highway 2 by United Naga Council and the state government's alleged "failure" to resume normal traffic even after 60 days.
"In the report, the Home Ministry told the EC about the ongoing tension and grave situation prevailing in Manipur. The EC may independently make an assessment of the situation so that election can be conducted properly," a top Home Ministry official had told PTI yesterday.
Meanwhile, the Union Home Ministry will provide around 85,000 security personnel for deployment in the upcoming assembly elections in the five states.
At a high-level meeting with the Election Commission yesterday, top officials of the Ministry led by Union Home Secretary Rajiv Mehrishi conveyed that it would provide around 750 companies of paramilitary forces for smooth conduct of the election process in the five states.
In addition, around 100 companies, most of which belong to State Armed Police Forces and India Reserve Battalions, will also be drawn from different states for deployment of election duties.
A company of paramilitary force comprises of around 100 personnel.