WATCH: Video Of Pakistan's BAT Infiltration Bid Foiled By Army In Hajipir Sector Released
Indian troops can be seen launching grenades at Pakistan's SSG(Special Service Group) commandos / terrorists using Under Barrel Grenade Launchers, reported news agency ANI.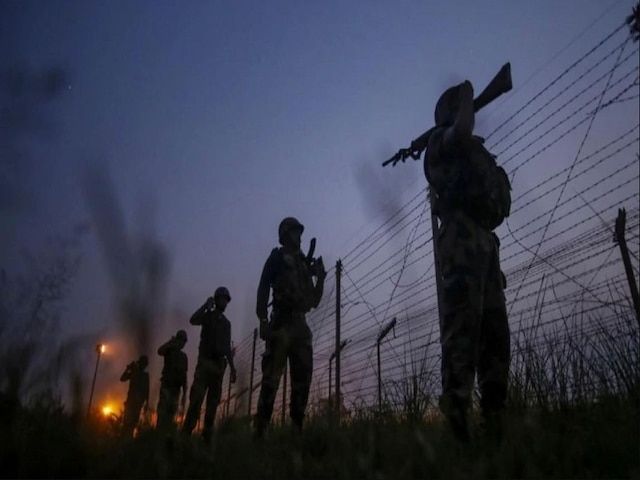 New Delhi:
A video exposing Pakistan's fresh infiltration bid in Jammu and Kashmir has surfaced, days after the country's Border Action Team (BAT) was eliminated in its infiltration bid in Keran sector.
Sources in the Army released a video showing the BAT team trying to infiltrate to the Indian side on the night of September 12-13 in Haji Pir sector of Pakistan occupied Kashmir.
The video reveals how Pakistan Army continues to push terrorists into India.


In the video captured on Hand Held Thermal Imager, Pakistan infiltration or attempted BAT action bid was seen and was eliminated.

Indian troops can be seen launching grenades at Pakistan's  SSG(Special Service Group) commandos/terrorists using Under Barrel Grenade Launchers, reported news agency ANI.

On 10-11 September, In Hajipir Sector of POK, Indian troops killed a soldier Sepoy Ghulam Rasool of their Punjab Regiment from Bahawalnagar, Pakistan's Punjab province.

In the same area, Pakistan attempted infiltration on night 11-12 September and 12-13 September . The attempt could have been for BAT action as well.

The area reportedly has Pak SSG troops. These intruders were well-engaged resulting into one more Pak casualty on 12-13 September.

In August, Indian Army managed to foil over 15 infiltration attempts by Pakistan on LoC, ANI reported citing sources.

On August 3, Indian Army foiled an attempt by Pakistan's Border Action Team (BAT) to carry out a strike in Keran sector on the Line of Control (LoC). Heavy casualties were inflicted on the BAT and five possible intruders were killed as the bodies were spotted close to the post on LoC where the action took place. A video of the same was also released.


 Watch here:




Army sources:This infiltration or attempted BAT action by Pakistan on 12-13 Sept 2019, was seen&eliminated in Hajipir Sector of PoK. Despite repeated denials,Pak has been trying to push terrorists into India. In Aug,Army managed to foil over 15 infiltration attempts by Pak on LoC https://t.co/UelRQpe9Vr


— ANI (@ANI) September 18, 2019