EXCLUSIVE: We need a secular alternative & Meira Kumar is the one, says Mani Shankar Aiyar on UPA's Presidential candidate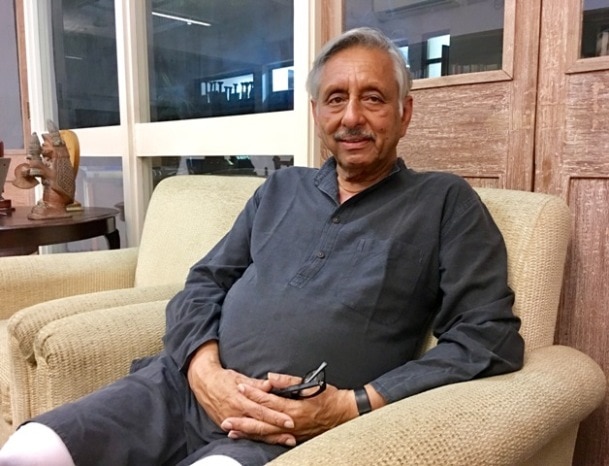 New Delhi: At the stroke of midnight of June 30 & July 1, Bharatiya Janata Party (BJP) led NDA introduced the Goods and Services Tax (GST) claiming it will transform Indian economy. The move was celebrated from the Central Hall of Parliament as a big event.

However, Congress party termed it "Tamasha" and its vice president Rahul Gandhi tweeted, "A reform that holds great potential is being rushed through in a half-baked way with a self-promotional spectacle #GSTTamasha".

However, in order to have an in-depth view on Congress' take on GST and many other important, current issues, ABP Live's Anurag Kumar has an exclusive, detailed conversation with Congress stalwart and former minister Mani Shankar Aiyar.

Here are important excerpts from the interview:

Q1) Will GST help?

Mani Shankar Aiyar: Of course, it will help that's why Congress thought it up. It was Gujarat more than any other state that stood for seven years in the way of GST. The lost to India because of Modi is approximately of the order of Rs 15 lakh crore (GDP) government revenue.

Now, they are bringing it in but with so many complications…six slabs…and they left 40 percent of revenue generating products, like petroleum, alcohol, real estate, electricity out of the net of GST which is why the rates are so high. If the original Congress proposal had gone through except for the certain sin tax, the rates would have been around 12 per cent.

Other countries have a PM, we have an EM … an events manager.

Q2) Narendra Modi government recently completed its 3 years. How you do you rate it?

Mani Shankar Aiyar: Thank God, three years are over and only two left. It has been a complete flop on every front except television. The economy has stagnated under him. Any good ideas he has had (like GST) are stolen from the Congress. His demonetisation has brought down our GDP growth rate by at least 2 percent.

His industrial policies are only slogans like "Make in India". Have we not been making in India before his slogan?

He has so distorted our foreign policy that we not only have the most terrible relation with Pakistan, we also have extremely bad relations with our Hindu neighbour Nepal. He has screwed up our relationship with China.

He (Modi) is trying to peruse NSG membership when he knows that he can't do it without cultivating China. And that he can't cultivate China unless he improves relation with Pakistan. In the meanwhile, he has almost lost us, the most important friendship we had since last so many years with the Russian federation.

On the socio-cultural front, values of intolerance have been introduced into Indian polity. He has made this a conflict-ridden society.

Q3) Who will be Congress' PM candidate in 2019 General elections?

Mani Shankar Aiyar: I do not think this is a question that should or needs to be answered today. We are engaged in the process of building up a Mahagatbandhan, as and when it will come to a stage of realization, it will decide who will lead the Mahagatbandhan.

But if your question is changed and you will ask me who will be the leader of Congress party when we will go into 2019 General Election, the answer is Rahul Gandhi who is expected to be elected this year as president of the Congress party.

Q4) Congress started Aadhaar but BJP, slowly and gradually, is making it compulsory. Do you think it is right?

Mani Shankar Aiyar: It's shocking. It is a complete perversion of the purposes for which Aadhaar was started. It was started to promote direct benefit transfer. It was not started in order to impose a fascist model of society endangering privacy.
BJP has stolen our ideas.

Q5) Your view on Triple Talaq. 

Mani Shankar Aiyar: I think it is a dreadful social practice but should not be stopped by law.
Q6) Recently PM talked about Gau Rakshaks and said that violence related to cow protection should stop. How do you see it?

Mani Shankar Aiyar: Please name one single advocate of this cow vigilantism, inside BJP, starting with the CM of UP (Yogi Adityanath) who Modi has punished for what they have been doing.

Q7) First BJP introduced Ram Nath Kovind and now Congress nominated Meira Kumar as Presidential candidate. Is this a battle of pitching Dalit vs Dalit?

Mani Shankar Aiyar: Who started this game? Yes, Mr Kovind is certainly the most undistinguished member of the Rajya Sabha I have ever known. He was mostly silent.

He was promoted for his RSS connections as Governor of Bihar. But he is the man who on record had said that Islam and Christianity are not part of India's heritage. Do you want somebody like this as the President of India?

We need a secular alternative and Meira Kumar is a secular alternative.

Q8) Do you think that a separate Gorkhaland should be created?

Mani Shankar Aiyar: I think there are many solutions to Gorkhaland but the one thing which we shouldn't be doing anywhere is forcing people to remains within a single mold instead of understanding what their grievances are.

One solution which I tend to think (through negotiation) is having a Gorkhaland autonomous region within the state of West Bengal.

Q9) What are the reason(s) for setback of Congress recently in elections after elections?

Mani Shankar Aiyar: I think it is extremely superficial to look for the reasons for the Congress setback only in the elections of 2014, or the subsequent apparent failure of the Congress to rejuvenate itself.

I think there are far more profound causes and to began to understand them you have to go back to 1967 General and Assemblies elections. It was the first time after Jawaharlal Nehru's death that the Congress was contesting. And we lost so badly in the Assemblies that you could travel through Wagah to Jessore without passing through Congress territory.

So, I think the roots of the change in the Congress party's role in national politics, I will trace back to the immediate post-Nehru period when the comprehensive nature of the Congress party as an all India party that represented all interest…came under serious challenge. When various caste-based and language based group suddenly emerged as regionally dominant in different parts of India. And that trend underlined our political development from 1967 to 1990.

But the minute VP Singh accepted the Mandal Commission recommendations and started the process of implementing them, the backward classes became the determining element of the Indian polity.

Backward classes discovered that they didn't need the Congress to represent themselves. They could form their own political parties. And that has become stronger since 1990.

The consequence is that where the Congress was able to present itself as an inclusive party, representing everyone, it has now become the party that represents the residue of everyone.

There has been a fractionating of the Indian polity and advantage of this is taken by the BJP to become the dominant national party.

Therefore the answer is obvious; the Congress must convert itself from being the sole inclusive party to becoming the leader of an inclusive movement. Don't forget the Congress was running a movement during the entire period from 1885 to 1947. We only became a party in independent India.

So I think we have to go back to becoming a movement in order to stop this alternative idea of India which is represented in Hindutva from becoming the national institution to save the India of the last 5000 years.

We have to have a Mahagatbandhan whether or not lead by the Congress that will stop this rising momentum of this Hindutva wave.

About Mani Shankar Aiyar:

Mani Shankar Aiyar is a former diplomat turned politician and is a member of the Indian National Congress (INC) party. He was a part of first Cabinet (2004–2009) of PM Manmohan Singh and served as the Union Minister of Panchayati Raj. He also served as the Union Cabinet Minister for Petroleum and Natural Gas from May 2004 through January 2006 and Ministry of Youth Affairs and Sports till 2009.