Wife roasted alive to pave way for fair bride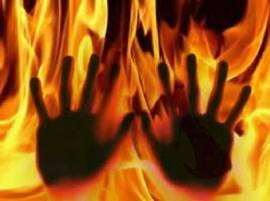 BIRBHUM: A young mother in Birbhum was burnt alive allegedly because she was dark-skinned and her in-laws wanted to get her husband a new bride with a fairer complexion.
Somera Bibi, 22, said in her dying statement to police that her husband, three brothers-in-law and mother-in-law locked her up in a room on June 3, sprinkled kerosene and set it ablaze, leaving her to die in the inferno. She succumbed to her injuries in hospital this morning.
Piecing together the accounts of the woman's family, it emerged that Somera had been threatened and abused and her family was forced to cough up cash, which she finally protested after years of subjugation.
Somera's husband, mason Nasir Sheikh, and in-laws are absconding. Her neighbours in Tarapith fear her two-year-old son was taken away by the family.
Nasir had agreed to marry Somera three years ago after her family gave him Rs 1 lakh and 10 cottahs of land. Several times that, Somera was forced to give money to Nasir and his family.
Six months ago, Nasir and his family had allegedly taken Rs 2 lakh from Somera, whose father is a farmer, to build a house. However, when Somera protested after her husband and in-laws allegedly demanded "whatever else her family had", she was set ablaze.
In the police complaint, Somera's family alleged that she used to be tortured regularly and they were forced to pay hefty sums of money on at least three occasions to keep the marriage intact.
Somera's mother Tandila Biwi alleged that Nasir's mother used to say that "we could have got a much better-looking girl for our son".
In her complaint, Tandila has alleged: "
Tahara prokash korto je tui dekhte kalo. Tokey niye amra ghar-sansar korbona
(they used to say 'you are dark. We don't want you in the family'.)"
Neighbours in Parun village had admitted Somera to Rampurhat subdivisional hospital after they broke into the house on seeing smoke and hearing her scream for help.
ALSO READ: Top 10 quotes from PM Modi's historic Capitol Hill address 
The police have started a murder case against Nasir, his mother Majlima Biwi and elder brothers Jamir Sheikh, Samir Sheikh and Akhirul Sheikh.
Somera's uncle Raosham Sheikh said today that at the time of marriage, Nasir's family had demanded a hefty dowry to "compensate" for her dark complexion. Dipping into their life's savings, Somera's father Piyar Baksh Sheikh and Tandila had given Nasir Rs 1 lakh and 10 cottahs.
Six months later, Nasir and his family demanded more money from Somera, again because of her dark complexion. Her parents managed to pay Rs 50,000.
Around six months ago, Nasir and his family demanded Rs 3 lakh, threatening to send her back to her parents in case of failure.
Piyar Baksh, Tandila and their son Khayer Hossain sold a part of their farmland and arranged for Rs 2 lakh, which they handed over to Somera's in-laws. They said they would not be able to give any more money, Khayer said.
Over the past two months, the in-laws kept telling Somera to get more cash from her parents or leave the house.
"For the first time, with her back to the wall, she started protesting. She said enough money had been given for the colour of her skin and there was none left to give. They wouldn't listen. They kept telling her to leave. They took her son away from her. They wanted to get Nasir married to someone fair," Khayer said.
During a fight on June 3, Nasir and his family allegedly locked Somera in a room, poured kerosene and set it on fire. Then they fled.
"We heard her screams. We saw the smoke. We ran to her rescue. It was too late. We did take her to hospital but she was so badly burnt that recovery seemed impossible," said Alauddin Sheikh, an elderly neighbour.
Alauddin said he had heard the in-laws fighting with Somera for money, but refused to say more.
Tandila, who lodged the police complaint while Somera was battling for her life in hospital, today said she would pursue the matter in court till the end and demand the maximum punishment for the accused.
-The Telegraph Calcutta